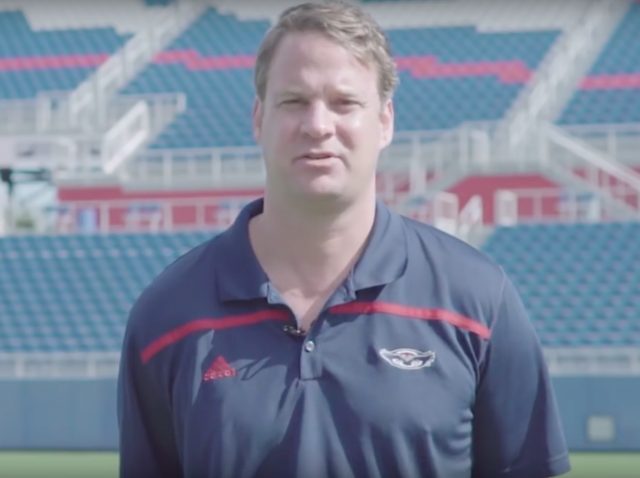 Newly-hired Florida Atlantic University (FAU) Football Coach Lane Kiffin left his longtime offensive coordinator gig at perennial powerhouse Alabama in December.  Now, he is already facing a civil lawsuit before even coaches his first official game as head coach.
According to the SEC County Blog, ex-Alabama Crimson Tide wide receiver Antonio "A.C." Carter filed a fraud suit, alleging Kiffin intentionally deceived him regarding a potential job on the FAU football staff.  The lawsuit alleges Kiffin only offered the job to Carter as part of a scheme to lure a prized recruit to sign with FAU.  According to Carter, he maintained a social relationship with the recruit that Kiffin worked to his benefit.
The lawsuit, filed in Alabama state court, says Kiffin led Carter to believe he had been finally hired and that is what caused the prized recruit to finally sign a letter accepting a scholarship to FAU.
Shortly after, Carter says he was informed by school officials that he did not pass the required background check.  He claims the school also told him he was ineligible for employment "due to two prior minor misdemeanor criminal charges."  Carter claims he provided documentation to school officials showing the criminal matter had been resolved for nearly a decade, but never received an official response.  He even says he went so far as to wait outside the school's Athletic Director's office in an effort to get a face to face and clear things up.  However, that plan reportedly did not go over well.l.
"The prospect's family had just celebrated New Year's Eve together with Plaintiff Antonio Carter and his family just a few weeks earlier," the lawsuit states. "It is believed that this relationship between Plaintiff Antonio Carter and the coveted prospect was known to the coaches and defendants at the time he was hired."
It is not uncommon in the world of college sports for parents and friends of high profile recruits to land positions with the school the star player ultimately signs with.  It can be done legally, but it is something rarely talked about by the schools.
Kiffin and the school reportedly declined to comment, citing pending litigation.  However, Kiffin is no stranger to controversy.  It has seemed to follow him his entire career and this is not even the first controversy he is involved in at FAU.
His staff is still taking heat for hiring Kendal Briles, a coach who is connected to the alleged Baylor sexual assault scandal.
[image via screengrab]
Have a tip we should know? [email protected]