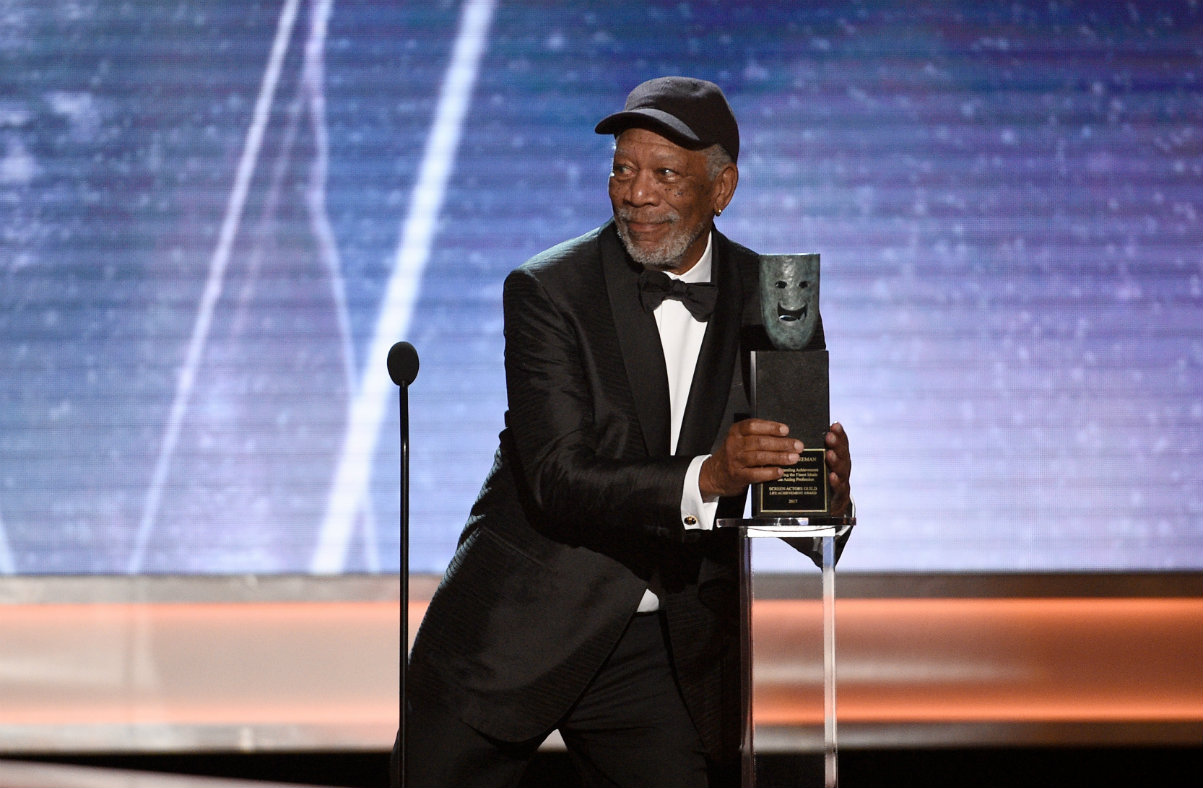 The fight between CNN and Morgan Freeman is escalating. An attorney for the network shot back regarding the defamation claim over a story that the actor creeped on, and sexually harassed women. They also accused Freeman's attorney of conflict of interest because his firm has done work for the network itself, and he has represented sister division Warner Bros.
"As you know, the central requirement of any retraction demand is that you identify which aspects of the story you contend are false," wrote Senior Vice President, Legal, David C. Vigilante in a letter to Freeman lawyer Robert M. Schwartz. "Under California law that means you must provide 'written notice specifying the statements claimed to be libelous and demanding that those statements be corrected [Emphasis theirs; citation removed].' Your letter does not do that. Designed for press consumption, it is rife with empty speculation, overheated rhetoric, and in some instances plainly false assertions."
Vigilante's letter, obtained by Law&Crime, chews out the Freeman defamation claim, pointing out that the actor hadn't challenged other incidents of alleged harassment.
Schwartz did not respond to a Law&Crime request for comment Thursday afternoon.
This new development follows up on his similarly harsh letter to the network. In it, the Freeman attorney demanded a retraction of the story that the actor sexually harassed women. He painted article co-author Chloe Melas as a glory-hound who wanted to "grab attention and advance her career" by misconstruing Freeman's behavior. The reporter said Freeman harassed her during a press junket for the film Going in Style. From the article:
According to Melas, who was six months pregnant at the time, Freeman, in a room full of people, including his co-stars [Alan] Arkin and [Michael] Caine, shook Melas' hand, not letting go while repeatedly looking her up and down and saying more than once a variation of, "I wish I was there." She says he also said to her, "You are ripe." Cameras were on and recording during one of Freeman's remarks to Melas — "Boy, do I wish I was there" — but not for the rest.
Schwartz claimed, however, that the "I wish I was there" remark was in reference to a Caine anecdote about misidentifying a woman as pregnant, and congratulating her for the baby. Video of the exchange proved it, the lawyer wrote, citing viewer interpretations of the footage. Schwartz also said the CNN report mischaracterized statements by TV producer Tyra Martin and film producer Lori McCreary. Indeed, after the article was published, Martin gave an interview on WGN, and said she wasn't a victim.
She described her interviews with Freeman as "always fun for me." Martin mentioned one incident in which she was standing up from an interview, and Freeman told her not to pull her skirt down. In the WGN, she made a disapproving face to convey her feelings about it, but added, "I never felt uncomfortable or in danger."
Schwartz cited this interview in his legal threat letter. Nonetheless, Vigilante pushed back on that.
"But while you focus on the fact that Ms. Martin found Mr. Freeman's remarks less upsetting than have other recipients, you ignore the fact that CNN reported that that was her reaction," he wrote. "Further, neither you nor Ms. Martin deny the referenced remarks by Mr. Freeman were made."
CNN stood by the reporting by Melas (who they said faced harassment after the publication of the article) and co-author An Phung.
Vigilante also wrote that Schwartz's firm Irell & Manella, LLP has been representing CNN and its affiliates in intellectual property matters. On top of that, Schwartz himself personally represented sister division Warner Bros. in multiple cases, including an ongoing class action lawsuit. (Time Warner, Inc. owns both CNN and Warner Bros.)
"The tone and content of your letter is already beyond the pale, but this context makes it especially troubling to us," Vigilante wrote. "We will be evaluating how to handle this serious conflict of interest and unfortunate breach of good faith over the coming days."
Elura Nanos contributed to this report.
Have a tip we should know? [email protected]