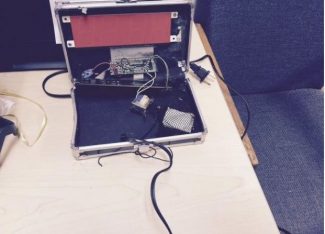 A judge dismissed a defamation lawsuit filed the father of "Clock Boy," the Texas teen who gained notoriety after he was arrested at school after he brought a homemade clock placed inside a briefcase with exposed wires to class and showed it to other students.
Mohamed Mohamed, the father, filed a defamation lawsuit last year against a number of conservative media outlets and pundits, including Glenn Beck and his news site, The Blaze, over alleged insults commentators made about his son.
"Clock Boy" was invited to the White House and pro-Muslim groups like CAIR called the incident an example of Islamaphobia.
Almost immediately, the matter seemed to become a partisan issue, with conservatives generally skeptical of the family's story that the boy was just a curious inventor.
During an interview on Beck's TV show on The Blaze, Jim Hanson, an executive at the Center for Security Policy, said he thought it all might be "a PR stunt."
"It's a RadioShack clock that he put in a briefcase, and in a briefcase it looks like a bomb," Hanson told the audience and listeners. "They did that to create the exact scenario that played out."
After the father sued,  Beck and The Blaze filed an Anti-SLAPP Motion to Dismiss the case that was granted by Dallas County district judge Maricela Moore, effectively dismissing the lawsuit.
Beck's attorney, Mike Grygiel, issued the following statement to LawNewz.com:
"Mr. Beck and TheBlaze are pleased at the Court's faithful application of controlling First Amendment principles pursuant to the Texas Citizens Participation Act, the very purpose of which is to protect free speech through the summary dismissal of unmeritorious defamation claims."
The Texas Citizens Participation Act referred to in the statement is also known as the Texas Anti-SLAPP statute, which allows citizens to challenge lawsuits brought against them if they can show the lawsuit is based on acts of communication in connection with one's free speech rights.
Under the statute, Beck and The Blaze were awarded attorney's fees and other court costs associated with the suit.
An attorney at the American Freedom Law Center, who represented the CSP in the lawsuit, told the Daily Caller the lawsuit was "a classic Strategic Lawsuit Against Public Participation or 'SLAPP' case and should be dismissed."
In a statement obtained by LawNewz.com after Hanson learned of the dismissal, Hanson said:
This ruling reaffirms our most fundamental liberty – the right to free expression – and punishes Mr. Mohammed and his allies for attempting to suppress ideas they oppose. The Center for Security Policy will continue to stand firm against all attempts by individuals and groups like CAIR that seek through lawfare and other means to prohibit any criticism of totalitarian Islamist doctrine and to brand as Islamophobes those who point out their efforts. Shutting down free speech is anti-constitutional and un-American.
The Mohameds still have a separate lawsuit pending against the Irving School District.
[image via Irving Police]
Have a tip we should know? [email protected]