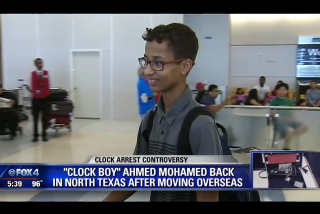 Remember "Clock Boy?"
Just over a year ago, Ahmed Mohamed, then 14 years old, brought a homemade digital clock to school to show to his teachers. The seemingly innocuous act snowballed into him being charged with making a hoax bomb, though the charges were quickly dropped. Just weeks after, he brought a federal civil rights lawsuit against his high school, said school's principal, and the city of Irving, Texas. Now, Ahmed and his father, Mohamed Mohamed, have filed another lawsuit.  This time accusing conservative pundit Glenn Beck, Irving, Texas Mayor Beth Van Duyne, Executive Vice President of the Center for Security Policy Jim Hanson, and others of defaming them.
In the complaint, Ahmed said he told his English teacher he'd be building something and confirmed that it was an alarm clock when asked. The defamation allegations stem from an episode of Beck's show on The Blaze streaming network where Hanson and Van Duyne appeared as guests:
Beck explained that he had a "theory" that. "for some reason[,] Irving is important to the Islamists," and that's why Ahmed Mohamed was arrested. The above embedded clip picks up when Hanson replied in agreement, saying that "I don't think there's any question that this latest event was a PR stunt" because "[t]hey wanted people to react, and they wanted to portray this kid as an innocent victim" when "I think he was a pawn of potentially his father." According to the complaint, "Ms. Van Duyne participated in this discussion and did not object to or correct any of the comments."
While none of Van Duyne's comments during her appearance on Beck's show specifically were cited as defamatory, the complaint does single out other things that she said in an interview with KDFW-TV. "The family has been non-responsive to their requests to sign off that they can release that information," said the mayor. "So right now, we're waiting to hear back from the parents that we can release that information and have transparency out in the public." The Mohamed family says the city never asked them for any kind of privacy waiver so that the records could be released. In that interview, she also said that Ahmed "was not forthcoming with information," which, as noted, the family denies.
When reached for comment about the lawsuit, Mercury Radio Arts, Glenn Beck's production company, told LawNewz that "[t]his is an abuse of the court system and we will not only fight this, we want to send a message to anyone who would abuse the court system to squash free speech." LawNewz has also attempted to contact the other defendants and will update this article if we get any statements from them.
Have a tip we should know? [email protected]