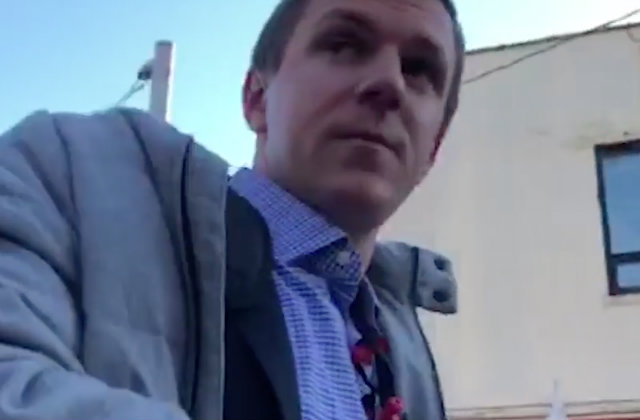 Virginia 'Ginni' Thomas, wife of Supreme Court justice Clarence Thomas, presented Project Veritas President James O'Keefe an award Wednesday for "defending liberty." This happened just over a week after his organization failed to trick The Washington Post with a fake source.
Wife of Supreme Court Justice Clarence Thomas, @GinniThomas, presenting an award to @JamesOKeefeIII today for "defending liberty." pic.twitter.com/bWXFgWa36x

— Kenneth P. Vogel (@kenvogel) December 6, 2017
The award ceremony happened at the Trump International Hotel in Washington D.C. United In Purpose, a conservative Christian group, ran the event. Other award recipients included Fox News host Sean Hannity and Judicial Watch President Thomas Fitton.
O'Keefe's PR hasn't been the best as of late. For years, his group Project Veritas was accused of misrepresenting recordings of left-leaning figures. This recently came to a head, when they tried and failed to fool The Washington Post, a nonpartisan news outlet, with a woman who falsely claimed she was one of Roy Moore's alleged accusers. Many journalists (and Netflix) dogpiled on him. O'Keefe tried to spin the debacle as a victory in a fundraising letter.
It's easy enough to find liberal and left-wing detractors, but the WaPo scandal dinged his credibility even among conservative commentators who supported Project Veritas' early work, according to a November report from The Atlantic. 
"I thought to myself that it seems like the only thing being exposed lately is the lack of sophistication on the part of the stingers," RedState Editor-in-Chief Caleb Howe told the outlet.
Then again, that point-of-view didn't stop United In Purpose from granting him an award anyway.
As for Thomas, she's been active in Republican politics since the 1980s, even becoming a columnist for The Daily Caller, and a lobbyist. And, well, there's the matter of her husband Clarence. He has served on the Supreme Court for decades, and is a reliable vote for conservative positions in cases.
[Screengrab via The Washington Post]
Have a tip we should know? [email protected]