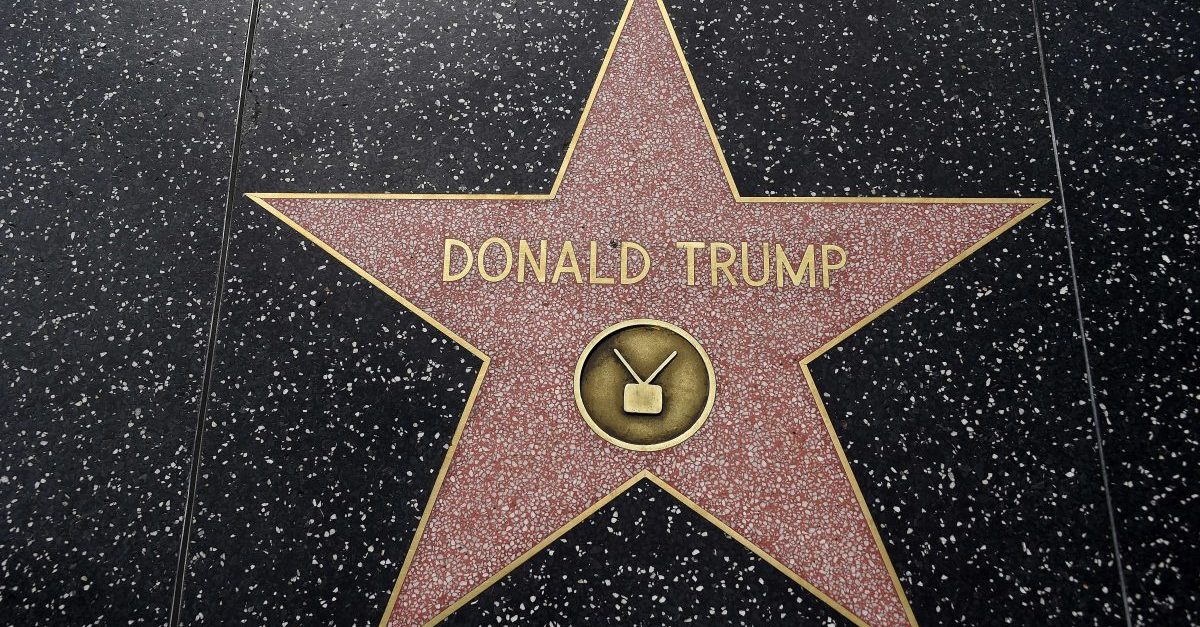 The West Hollywood City Council passed a resolution in favor of removing President Donald Trump's star on the Hollywood Walk of Fame. The resolution, which passed on Monday, calls on the Hollywood Chamber of Commerce to remove the sidewalk monument. The vote was unanimous, according to a tweet from West Hollywood Mayor John Duran.
West Hollywood City council unanimously passes resolution asking the Hollywood Chamber of Commerce to remove the Donald Trump star on Hollywood Walk of Fame. #horcruxdestroyed #bellicose #belligerent #unAmericanvalues #MakeAmericaintoAmericaAgain

— JohnDuran (@JohnDuran) August 7, 2018
The resolution adds insult to injury for the star, which was demolished in July by a man wielding a pickaxe. Prosecutors said suspect Austin Mikel Clay will be arraigned next week. He faces up to three months in jail for the alleged offense.
This wasn't the first time someone defaced the star. James Otis claimed responsibility for bashing it with a sledgehammer before the 2016 election.
Hollywood Chamber of Commerce President Leron Gubler said the resolution will be considered, but in the meantime, the star is safe.
"Once we receive a communication from the City of West Hollywood, it will be referred to our Executive Committee for consideration at their next meeting," Gubler said in a statement. "As of now, there are no plans to remove any stars from the Hollywood Walk of Fame."
Trump's star, which he received in 2007, is in recognition of his hosting duties on the NBC reality competition program "The Apprentice."
[Image of Donald Trump's star via ROBYN BECK/AFP/Getty Images]
Have a tip we should know? [email protected]