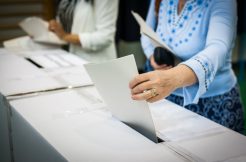 A city clerk in Green Bay, Wisconsin opposed an early-voter site at a local university because such a thing might help Democrats, according to an email obtained by The Nation. What's interesting is that she was apparently working within her own understanding of the law.
From Kris Teske's August 26 email to David Buerger, counsel at the Wisconsin Ethics Commission [emphasis ours]:
I have a State Representative who is being very persistent about having an alternate polling location at UWGB. I don't like the idea at all for many reasons: Staffing, ballot security, budget, etc. He is on the ballot for 25 of our wards. I was reading the statutes and read: "No site may be designated that affords an advantage to any political party." UWGB is a polling location for students and residents on Election Day but I feel by asking for this to be the site for early voting is encouraging the students to vote more than benefiting the city as a whole. I have heard it said that students lean more toward the democrats and that he is a democrat. I have spoken with our Chief of Staff and others at City Hall and they agree that budget wise this isn't going to happen.

I would like to know your thoughts on this. Do I have an argument about it being more of a benefit to the democrats?
The nationwide fight over election laws is politically charged as can be. Generally, Republicans are pushing for more limitations like voter IDs and limits on early-voting polls, claiming that they want to stop fraud. Democrats tend to counter by saying these restrictions are designed to hurt minority voters who tend to lean blue. There's been court battles, with the limitations usually getting overturned, but there are exceptions.
Teske's political affiliation hasn't been reported on, but she is an appointee of Republican Mayor Jim Schmitt.
We've reached out to Teske for clarification. We also reached out to Buerger as well. He didn't comment, but instead forwarded the email to Reid Magney, the Public Information Office for Wisconsin's Elections Commission, and Ethics Commission. From Magney's statement to Law Newz:
* The Ethics Commission and its staff had no role in this elections matter. The Green Bay City Clerk contacted a former Elections staffer (David) who had transferred to the Ethics Commission. He forwarded the clerk's email to staff counsel for the Elections Commission.

* Judge Peterson's late-July decision in the One Wisconsin Institute case opened the door for clerks to establish satellite in-person absentee voting locations in addition to the clerks' office.

* Most municipal clerks do not have the resources to open satellite absentee voting locations, and no state law requires clerks to establish satellite absentee voting locations.

* Polling locations are established by municipal clerks and their governing bodies (city councils or village and town boards).

* Under state law, "…no site may be designated that affords an advantage to any political party." Wis. Stat. § 6.855(1). The clerk was asking for guidance interpreting that statute.

* The Elections Commission staff counsel provided the clerk with guidance on what criteria she and the city council could consider when deciding whether to establish satellite absentee voting locations, and where they might be. "I think the bottom line is you and the city council should weigh all of the factors involved with operating in-person voting locations outside of your office, and decide what is feasible and serves the needs of the city and its voters."

* It is our understanding that the city of Green Bay looked at a variety of factors in deciding whether to offer alternate absentee voting locations. The Wisconsin Elections Commission and its staff did not participate in the city's ultimate decision making regarding absentee voting locations.
Apparently, Buerger never responded to Teske's letter. Instead, it was Nathan Judnic, counsel for the Elections Commission. He advised that no, opening the polling site at UWGB wouldn't constitute an "advantage." We obtained their email exchange.
Here's the relevant excerpt of his September 9 reply:
As far as stating that one political party may be advantaged more because of a particular location, I might be hesitant to make that argument unless you could point to something other than "I've heard that students lean more democratic." Additionally, the in-person sites could be used by all residents of the city and wouldn't be restricted to use by students. Finally, if the campus polling location is OK for election day, and there is no 'political advantage' then, I'm not sure what the difference is for in-person absentee voting at that same location?
And one last email from Teske, thanking Judnic for his response.
The only reason why I thought it would not be a good alternative site is because anyone that doesn't attend UWGB doesn't like UWGB as their polling location because it is a very huge campus and tricky to navigate but after the redistricting the Clerk was told to have one there. I can't see anyone but the students using it during in-person absentee voting. If I could have an alternative site it wouldn't be there.
Update – October 25, 2:13 p.m.: Updated with a statement from the PIO of Wisconsin's Ethics and Elections Commissions.
2:31 p.m.: Added information from September 9 emails.
3:04 p.m.: An earlier version of the article stated that Teske was appointed by Gov. Scott Walker. She was actually appointed by Mayor Jim Schmitt. We've changed the text to reflect that.
[image via Alexandru Nika and Shutterstock]
–
Follow Alberto on Twitter (@Alberto Luperon)
Have a tip we should know? [email protected]