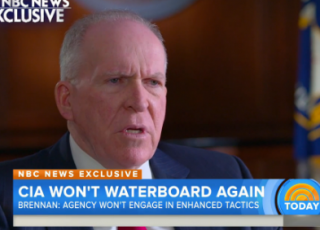 Republican Presidential front runner Donald Trump  has not been shy. He has repeatedly advocated for the use of enhanced interrogation tactics, especially waterboarding. Well, if Trump becomes President, he may have to get another director of the Central Intelligence Agency. In an exclusive NBC interview, CIA director John Brennan  said that his agency will not engage in these kind of harsh practices even if ordered by a future president.
"I will not agree to carry out some of these tactics and techniques I've heard bandied about because this institution needs to endure," Brennan said in the NBC interview, "Absolutely, I would not agree to having any CIA officer carrying out waterboarding again," he said.
WATCH:
As LawNewz.com reported in early March,  Trump said in a statement to the Wall Street Journal. "I do, however, understand that the United States is bound by laws and treaties and I will not order our military or other officials to violate those laws and will seek their advice on such matters." He continued, "I will not order a military officer to disobey the law. It is clear that as president I will be bound by laws just like all Americans and I will meet those responsibilities."
However, in a previous debate when asked what would happen if the military disobeyed his order on torture, Trump responded, "They won't refuse. They're not going to refuse me. Believe me." The full interview with the CIA director is scheduled to air tonight on NBC Nightly News.
[screengrab via NBC News]
Have a tip we should know? [email protected]
Rachel Stockman - President / On Air Host