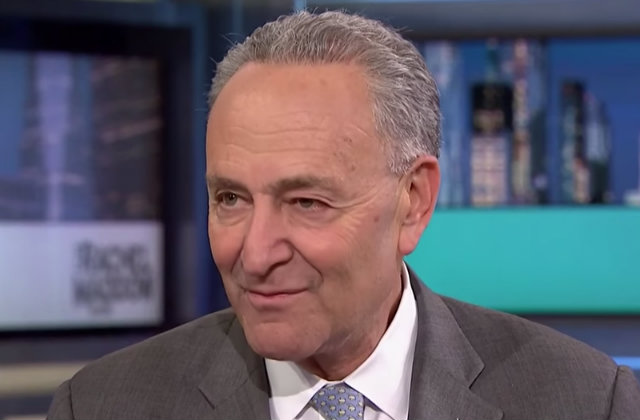 New York Senator Chuck Schumer filed a police complaint over a fabricated sexual harassment claim that began circulating earlier this week.
Schumer's spokesman, Matt House, issued a statement which reads:
We have turned it over to the Capitol Police, and asked them to investigate and pursue criminal charges, because it is clear the law has been broken. We believe the individual responsible for forging the document should be prosecuted to the fullest extent of the law to prevent other malicious actors from doing the same.
The false document was sent out to multiple media outlets and journalists–who quickly settled on the complaint's lack of authenticity.
Included in the document is the forged signature of one of Schumer's former congressional aides. An apparent attempt to smear the Democratic Senate minority leader, the document contained various lurid and false details. It was originally sent to news outlets as a password-protected PDF file and titled "Schumer_Complaint."
Whoever created the document formatted it to look like a 2012 filing made in the U.S. District Court for the District of Columbia. The falsely-named accuser is a female former staffer of Schumer's who worked with the senator from 2009 to 2012.
The falsity of the document is underscored by its timeline: it alleges sexual misconduct performed by Schumer in Washington, D.C. while he was actually in New York.
The provenance of the document immediately became the subject of hot debate. Immediately after the falsity of the complaint was established, fingers were pointed at alt-right vlogger Mike Cernovich, who formerly referred to himself as a "National security reporter" in his Twitter bio.
Accusations came Cernovich's way due to a tweet he sent at 11:10 a.m. on December 12, reading, "I am in possession of a sexual harassment complaint filed against one of [Senator Kirsten Gillibrand's] colleagues. Will she read the complaint? Ask John Conyers if I'm bluffing."
Cernovich recently made waves by providing BuzzFeed News with the long-sealed sexual harassment claims leading to Representative John Conyers' more or less forced retirement.
Another prominent alt-right figure, Charles C. Johnson, has also been implicated in the forgery scandal.
Prior to the debunking of the document, in two separate Facebook posts, Johnson wrote, "Currently reading the sexual harassment settlement documents of a major Democratic US Senator…" and "Michael Cernovich & I are going to end the career of a U.S. Senator."
As the news dawned on everyone that the Schumer complaint was fake, both Cernovich and Johnson rubbished accusations that they were actually the sources of the document.
The forgers of the document–if discovered–are likely to face multiple criminal charges.
[image via screengrab/MSNBC]
Have a tip we should know? [email protected]