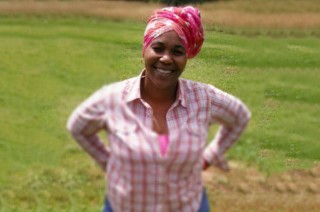 The ACLU is representing an Alabama woman who claims that her state's DMV refused to take her driver's license photo while she wore a religious headscarf. Yvonne Allen said in a blog post on the ACLU's website that the garment " is an integral part of my Christian beliefs."
"The DMV officials said only Muslims were allowed to keep their headscarves on for photos," she wrote, saying that her beliefs were not protected in the same way. She recalled that the woman taking pictures asked her to remove the scarf, and she said she couldn't. The woman asked if it was for religious reasons, and when Allen said yes, the DMV employee asked if she was Muslim. Allen wrote that when she said no, the woman replied, "Only Muslim women have the right to cover their hair in their driver license photos." Allen eventually removed the head covering and got her picture taken.
On Tuesday, the ACLU filed a lawsuit on Allen's behalf. According to the complaint, Allen complained to Becky Frayer, chief clerk of the Lee County Probate Judge's Office, which handles driver's licenses. Frayer confirmed to Allen that the exception to the head covering rule only applies to Muslims and not Christians. "The government cannot discriminate among faiths," the complaint says, arguing that what happened violated Allen's rights under the First Amendment and the Alabama State Constitution. The lawsuit says that state policy also says that the religious accommodation applies to all faiths. "Without question, I believe that Muslim women should not have to violate their faith just to take a driver license photo, but neither should Christian women," Allen said in her blog post.
UCLA Law Professor Eugene Volokh agrees. In his "Volokh Conspiracy" blog for the Washington Post, he said:
The First Amendment doesn't generally require government to give religious exemptions from generally applicable laws (such as requirements that people have driver's licenses that show them bareheaded) — but when the government does grant religious exemptions, it generally can't grant the exemption to members of one religion and then deny the same exemption to members of other religions.
LawNewz.com has reached out to the Lee County Probate Judge's Office for comment. Ms. Frayer forwarded our request to Judge Bill English. Both are named as defendants in the case. We will update this article upon receipt of any comment.
[Image via ACLU]
Have a tip we should know? [email protected]