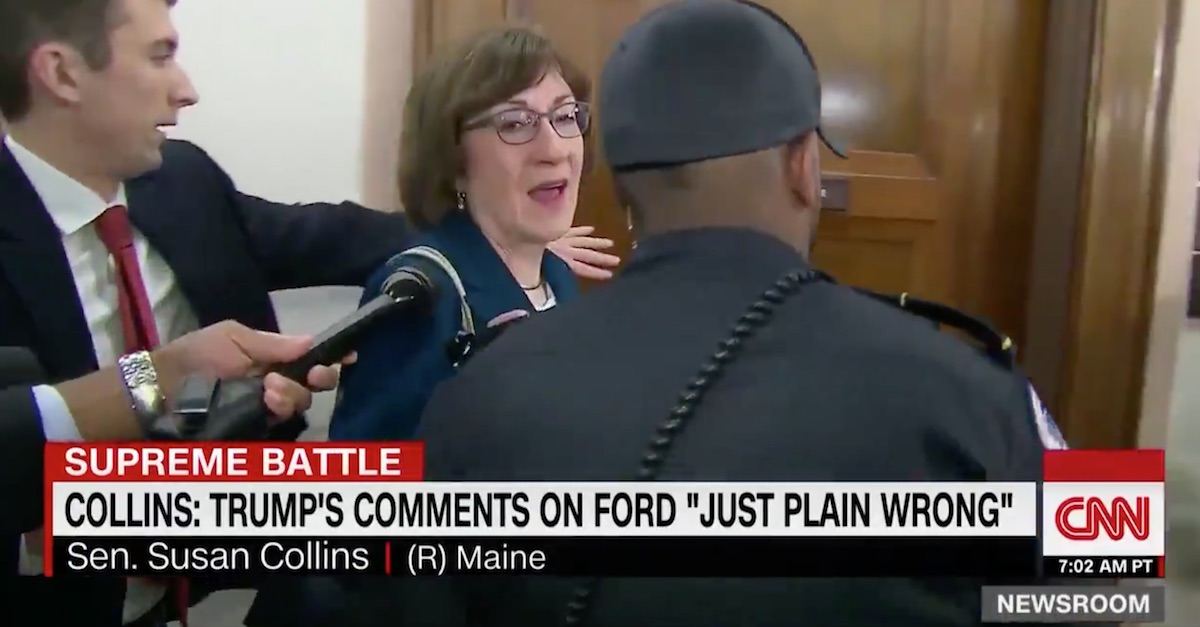 Some drama unfolded earlier Wednesday on Capitol Hill after Sen. Susan Collins (R-Maine) was tracked down by reporters and asked for her response to President Donald Trump's recent remarks about Brett Kavanaugh accuser Dr. Christine Blasey Ford. Members of the press tweeted their objections to being blocked off from Collins' office by Capitol Hill Police.
People want to know if Collins' vote will be "yes" or "no" when the U.S. Senate holds a vote to confirm Kavanaugh to the Supreme Court. This morning, Collins was asked about the president's assessment of Ford's sexual assault allegation against Kavanaugh.
Trump, while on the rally trail (after mostly staying silent on the issue), made comments like "So many different charges. Guilty until proven innocent … That's very dangerous for our country. I have it myself all the time. Let it happen to me. Shouldn't happen to [Kavanaugh]."
He characterized Ford's accusation this way, "I had one beer! How did you get home? I don't remember. How'd you get there? I don't remember. Where's the place? I don't remember."
Collins did stop and answer the question, saying Trump's comments were "just plain wrong."
After that, tensions seemed to run high.
Capitol Police forced reporters to back off from Collins' Senate office due to apparent concerns for the senator's safety.
Former Hillary Clinton aide Brian Fallon claimed Collins was "hiding from protestors AND the press."
At least one correspondent acknowledged that Collins has faced "more harassment, serious threats and personal attack[s]" and that this is "neither hypothetical nor casual."
Nonetheless, PBS News Hour's Lisa Desjardins said, the "press has never personally been a threat to senators."
[Image via CNN screengrab]
Have a tip we should know? [email protected]