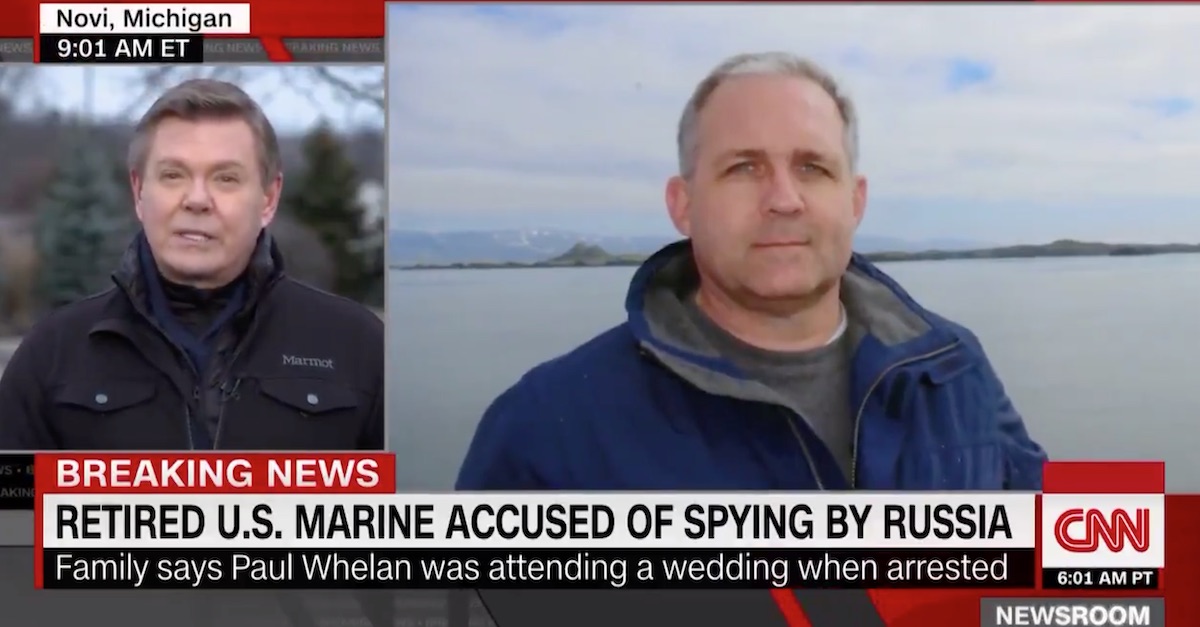 Retired U.S. Marine Paul Whelan faces up to 20 years in prison after his Dec. 28 arrest in Moscow on spying charges. It happened just over a week after Russian President Vladimir Putin indicated he would not resort to retaliation, given the U.S. arrest of accused Russian agent Maria Butina.
Whelan, accused of being caught while "carrying out an act of espionage," is currently in custody of Russian authorities. Whelan's brother David Whelan released a statement on behalf of the family, saying that Paul, who served multiple tours in Iraq, was in Moscow to attend a wedding.
"We noticed that he was not in communication on the 28th, which was very much out of character for him even when he was traveling," the family said. "We learned of his arrest on Monday morning after his detention was picked up on newswires and have contacted Congressional representatives, the U.S. Embassy, and the State Department."
"We are deeply concerned for his safety and well-being. His innocence is undoubted and we trust that his rights will be respected,"  the statement ended. Whelan lives in Michigan and works in corporate security for automotive components supplier BorgWarner.
David Whelan told CNN that it was a great relief to know his brother is still alive after losing contact with him.
"Knowing that he's not dead, it weirdly really helps," he said. "When we couldn't get ahold of him initially, we were worried, and we are still worried now, but at least we know he is alive."
The charge against Whelan is punishable by 10 to 20 years in prison.
The Whelan Dec. 28 arrest occurred eight days after Vladmir Putin commented on the U.S. arrest of Butina, who recently pleaded guilty to conspiracy to act as a foreign agent.
Putin claimed that Butina was "forced" to admit her guilt and he distanced the Russian government from her, while also claiming he doesn't abide by the Code of Hammurabi.
"As for the fate of Russian nationals, we do care about them, including the fact that Butina is being forced to admit something over there. I cannot understand what she could possibly have admitted, since she was not following any instructions from the Russian Government or its agencies," he said. "This is a very sensitive area, and we will not act according to the laws of the Code of Hammurabi here. The law of retaliation states, 'An eye for an eye or a tooth for a tooth.' We need to act very cautiously here, and we need to be real."
[Image via CNN screengrab]
Have a tip we should know? [email protected]