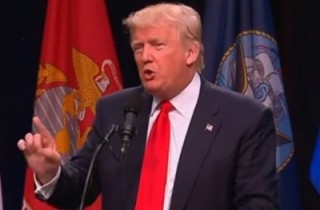 New York attorney general Eric Schneiderman has ordered the Trump Foundation to stop asking for money in the state. In a cease and desist letter dated Friday, he said the organization failed to register with the Charity Bureau. This is an alleged violation of section 172 of Article 7-A in the NY Executive Law.
Schneiderman is giving the Trump Foundation 15 days to turn in financial reports and audited financial statements.
"The failure immediately to discontinue solicitation and to file information and reports required under Article 7-A with the Charities Bureau shall be deemed to be a continuing fraud upon the people of the state of New York."
The Donald J. Trump Foundation, a not-for-profit charity was founded in 1988 by its namesake, the Republican candidate for president.
We've reached out to his representatives for comment.
Trump has clashed with Scheiderman for years. The New York Attorney General has already been going after Trump University for allegedly being a fraud, while The Donald made an official complaint to state authorities: In 2012, Schneiderman allegedly solicited campaign money from Trump and daughter Ivanka. But The New York State Joint Commission on Public Ethics ruled against him.
"It's a joke," Trump attorney Alan Garten said in a August statement obtained by <i>Newsday</i>. "It's New York politics at its best. There is no accountability."
Update – October 3, 2:00 p.m.: We've added backstory that elaborates on Schneiderman's history with Trump.
–
Follow Alberto Luperon on Twitter (@Alberto Luperon)
Have a tip we should know? [email protected]