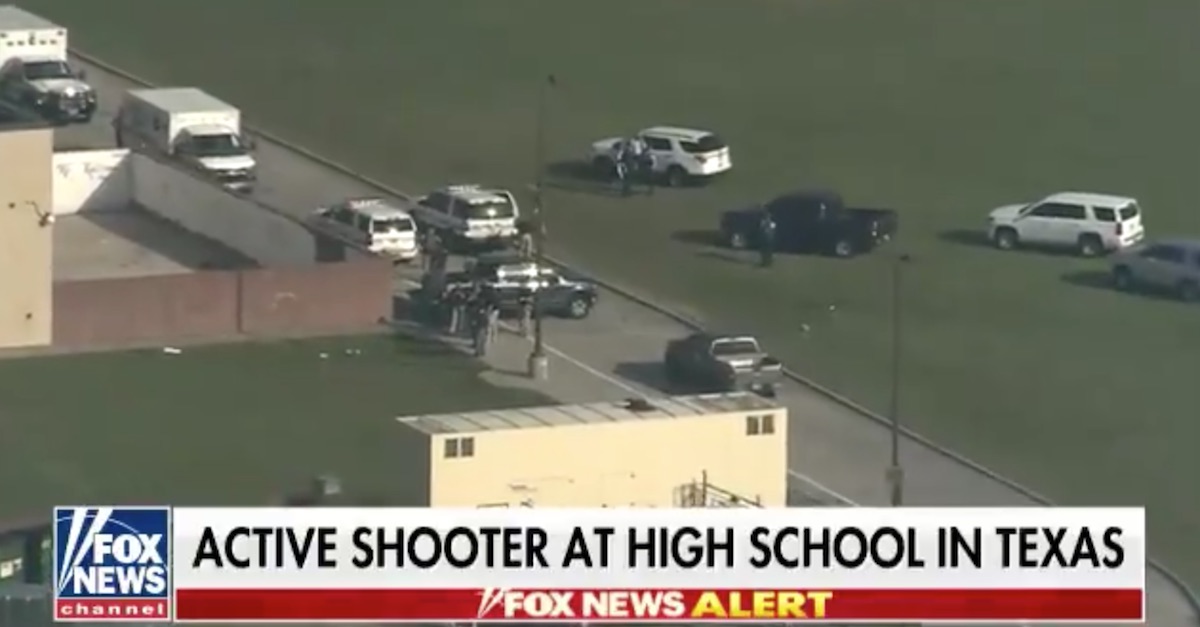 An active shooter alert went out early Friday in Santa Fe, Texas, where a gunman walked into a high school art class and starting shooting.
Early reports indicate that there are multiple fatalities at Santa Fe High School, with others injured and taken to the hospital.
KHOU reported that a federal and county official said there were multiple students killed and a wounded officer. The local news outlet also reported that multiple victims were taken to a Galveston hospital.
The shooter, believed to be a student, has reportedly been arrested. Witnesses said the shooter had a shotgun.
The Santa Fe Independent School District's statement on the shooting, per NPR:
This morning an incident occurred at the high school involving an active shooter. The situation is active, but has been contained. There have been confirmed injuries. Details will be released as we receive updated information. Law enforcement will continue to secure the building and initiate all emergency management protocols to release and move students to another location. All other campuses are operating under their regular schedules.
One student who was interviewed, Paige, said she heard "really loud booms" and "didn't know what they were at first."
Then she heard screaming.
KHOU has reported that there are at least 8 dead.
Harris County Sheriff Ed Gonzalez announced that one suspect was in a custody and a second person has been detained.
Gonzalez said the number of fatalities is between 8 and 10.
Texas Gov. Greg Abbott later confirmed that there were 10 killed and 10 wounded.
There was also reportedly a "large police presence" at a second location near the school, where authorities are investigating possible explosive devices in a mobile home.
President Donald Trump responded to the news Friday morning.
"This has been going on too long in our country, too many years," he said.
Police have confirmed that they found explosive devices at the school.
The suspect has been identified as 17-year-old Dimitrios Pagourtzis.
We will update this post as we learn more.
[Image via Fox News screengrab]
Have a tip we should know? [email protected]