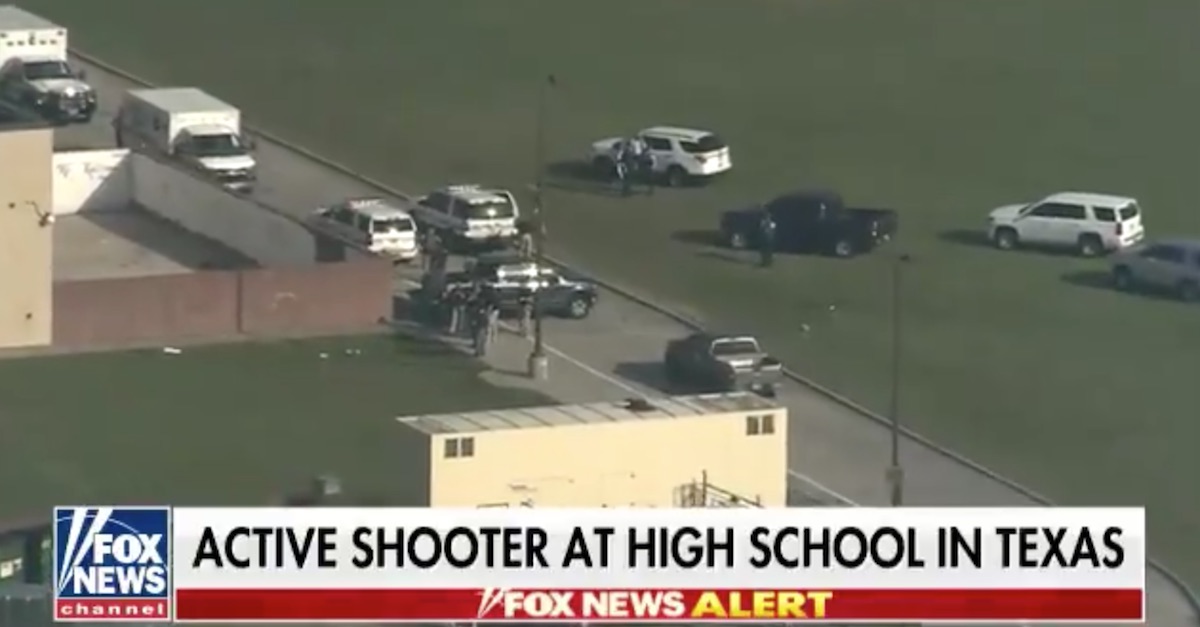 An active shooter alert went out early Friday in Santa Fe, Texas, where a gunman walked into a high school art class and starting shooting.
Early reports indicate that there are multiple fatalities at Santa Fe High School, with others injured and taken to the hospital.
BREAKING UPDATE: Multiple students killed in shooting at Santa Fe High School in Texas, federal official says https://t.co/2zIWNaQvPa pic.twitter.com/JciSevTXUN

— NBC Charlotte (@wcnc) May 18, 2018
KHOU reported that a federal and county official said there were multiple students killed and a wounded officer. The local news outlet also reported that multiple victims were taken to a Galveston hospital.
The shooter, believed to be a student, has reportedly been arrested. Witnesses said the shooter had a shotgun.
BREAKING: Assistant principal says shooter at Texas high school "has been arrested and secured," no comment on possible injuries.

— The Associated Press (@AP) May 18, 2018
The Santa Fe Independent School District's statement on the shooting, per NPR:
This morning an incident occurred at the high school involving an active shooter. The situation is active, but has been contained. There have been confirmed injuries. Details will be released as we receive updated information. Law enforcement will continue to secure the building and initiate all emergency management protocols to release and move students to another location. All other campuses are operating under their regular schedules.
One student who was interviewed, Paige, said she heard "really loud booms" and "didn't know what they were at first."
Then she heard screaming.
Santa Fe High School student: "As soon as the alarms went off, everybody started running outside — and next thing you know…you hear 'boom, boom, boom.' And I just ran as fast as I could to the nearest forest, so I could hide and called my mom." https://t.co/RKzmCQIVNi pic.twitter.com/eaNWF0uoDN

— CBS News (@CBSNews) May 18, 2018
KHOU has reported that there are at least 8 dead.
Devastating news from @JRogalskiKHOU confirming with 3 different sources there are at least 8 dead in the #SantaFeSchoolShooting #KHOU11

— Marcelino Benito (@MarcelinoKHOU) May 18, 2018
Harris County Sheriff Ed Gonzalez announced that one suspect was in a custody and a second person has been detained.
One is in custody, a second one detained. An injured police officer is being treated, the extent of his injuries are unknown.

— Ed Gonzalez (@SheriffEd_HCSO) May 18, 2018
Gonzalez said the number of fatalities is between 8 and 10.
JUST IN: Sheriff updates on latest on deadly Texas shooting: https://t.co/b9uVGvw8aj

-Between 8-10 fatalities.
-One ISD police officer injured.
-One suspect in custody.
-"Second possible person of interest" detained and being questioned.
-Search of school ongoing. pic.twitter.com/sCTupY8HT1

— Evan McMurry (@evanmcmurry) May 18, 2018
Texas Gov. Greg Abbott later confirmed that there were 10 killed and 10 wounded.
There was also reportedly a "large police presence" at a second location near the school, where authorities are investigating possible explosive devices in a mobile home.
Large police presence at second location close to #SantaFeHS #khou11 https://t.co/X7cHJHPDpW

— Rekha Muddaraj (@RekhaKHOU) May 18, 2018
President Donald Trump responded to the news Friday morning.
"This has been going on too long in our country, too many years," he said.
"This has been going on too long in our country, too many years, too many decades now" – President Trump on reports at least eight people are dead after shooting at Santa Fe High School in Texas https://t.co/n5ZUtzkzO9 pic.twitter.com/qbQrY9zjiW

— BBC Breaking News (@BBCBreaking) May 18, 2018
Police have confirmed that they found explosive devices at the school.
ALERT: Santa Fe Police asking community to remain alert today and call 911 if you see anything suspicious – https://t.co/LvaX7v0by5 pic.twitter.com/QUivAxeBk6

— KHOU 11 News Houston (@KHOU) May 18, 2018
The suspect has been identified as 17-year-old Dimitrios Pagourtzis.
#BREAKING: Federal law enforcement source confirms suspected #SantaFeShooting suspect is Dimitrios Pagourtzis, 17. #KHOU11 Investigates @JRogalskiKHOU pic.twitter.com/Q0sGUjJtP0

— Lauren Talarico (@KHOULauren) May 18, 2018
We will update this post as we learn more.
[Image via Fox News screengrab]
Have a tip we should know? [email protected]