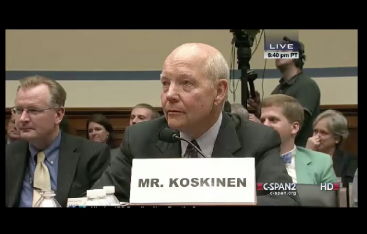 The House Oversight and Government Reform Committee on Wednesday approved a resolution to censure IRS Commissioner John Koskinen by party line vote of 23-15.
According to The Hill, the censure resolution calls for Koskinen's resignation or removal from office, citing his pattern of conduct "that is incompatible with his duties and inconsistent with the trust and confidence placed in him as an officer of the United States."  Furthermore, the resolution states that Koskinen ignored subpoenas and accuses him of making false statements under oath during the 2013 congressional investigations into the IRS's targeting of conservative groups applying for tax-exempt status.  The resolution further recommends that he relinquish his federal pension and other benefits, but stops short of requiring him to do so.
Committee Chairman Jason Chaffetz reportedly called the censure resolution "a first step" towards impeachment and a "necessary repercussion."
We owe it to the American people to ensure their government officials are held accountable for misconduct," Chaffetz said, according to The Hill. "When there's a duly issued subpoena, you have to comply with it. When you come to Congress, you must testify truthfully."
Regardless of whether the House moves forward with impeachment, the report states Republican Senator Orrin Hatch is already on record as saying the Senate will not act on impeachment.  Without a conviction in the Senate, Koskinen could not removed from office.
The House Committee's top Democratic Representative Elijah Cummings reportedly said, "This resolution is a waste of time, it is going nowhere, has no practical effect."
Last month, Koskinen told reporters that he did not think there was a basis for a censure resolution.
The House Judiciary Committee will hold a second hearing next week to consider Koskinen's impeachment.
Have a tip we should know? [email protected]