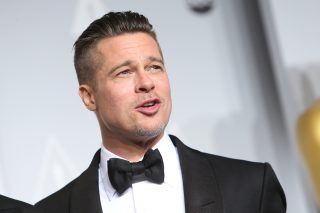 Earlier today, we wrote about reports that Brad Pitt was being investigated for child abuse, based on an alleged incident from last week. Sources had told TMZ that Pitt was drunk while on a private plane with his family, and that he was verbally and physically abusive. An anonymous reporter was said to have contacted the Los Angeles County Department of Children and Family Services (DCFS).
The initial report said that the same caller contacted the Los Angeles Police Department, and that the LAPD was investigating Pitt. The LAPD denied this, saying that they were not investigating any allegations against Pitt.
Now a new report from TMZ says that it was DCFS who contacted the LAPD, but that the police indeed are not investigating … the FBI is. LAPD sources reportedly told the gossip site that the alleged incident falls under federal jurisdiction because it took place in the air, and that's why the police are not getting involved. The same sources said that if the FBI investigation uncovers abuse that took place on the ground, the LAPD could then look into it.
[Image via Joe Seer/Shutterstock]
Have a tip we should know? [email protected]