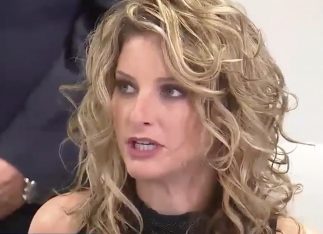 Los Angeles based attorney Gloria Allred held a press conference on Tuesday during which she announced that former Apprentice contestant Summer Zervos filed a defamation lawsuit against President-elect Donald Trump, accusing him of lying about touching her in a sexually inappropriate way.
During the press conference, Allred described the alleged actions she says Trump did to Zervos several years ago while she was a contestant on the reality program. She claims that Trump kissed and groped her in a Beverly Hill hotel room in 2007.  "As I was about to leave, he again kissed me on the lips," Zervos said. "This made me feel nervous and embarrassed. This is not what I wanted or expected." She says she immediately told friends and her family about the incident.  In the lawsuit, Zervos further accused Trump of defamation for knowingly lying in October when he was asked about what happened.
Allred claims Zervos volunteered to take a polygraph test and passed the exam, according to her expert polygraph examiner.
"This lawsuit seeks to make Donald Trump accountable for the damages he's caused Miss Zervos," Allred told the audience.
Allred also suggested she may attempt to subpoena copies of unaired, unedited outtakes from the Apprentice show.  There has been quite a bit of media speculation about what conversations may have been captured, in light of the Access Hollywood tapes that included Trump making lewd remarks.
The lawsuit was filed in New York on Tuesday morning.  Zervos offered to dismiss the lawsuit without any compensation if Trump is willing to admit she was telling the truth about her claims.
"Ms. Zervos confided in family and friends when these assaults first occurred in 2007, both after Mr. Trump kissed her on the mouth in New York twice and after he attacked her in a hotel room on a later occasion," the lawsuit states.
A copy of the lawsuit can be viewed HERE.
The Supreme Court ruled in 1997 that sitting presidents can face civil lawsuits during their tenure in office for conduct that allegedly occurred before they took office or for conduct unrelated to official duties as president.  As LawNewz.com's Ronn Blitzer previously wrote:
Professor Edward Foley, director of Election Law @ Mortiz at The Ohio State University's Moritz College of Law, said that situations like this could be decided by courts on a case by case basis. On the one hand, "the judiciary will want to look to the principle that no one is above the law," Foley said. On the other hand, there is "the risk of a civil lawsuit being a genuine distraction such that it outweighs the interests of the litigants in the civil suit." The judiciary would exercise their discretion, he said, given that "the President is the chief executive of the nation," and shouldn't have to face the distractions of litigation unless it's truly necessary.
This is a breaking news story and LawNewz.com will provide updates as they become available.
[image via screengrab]
Have a tip we should know? [email protected]