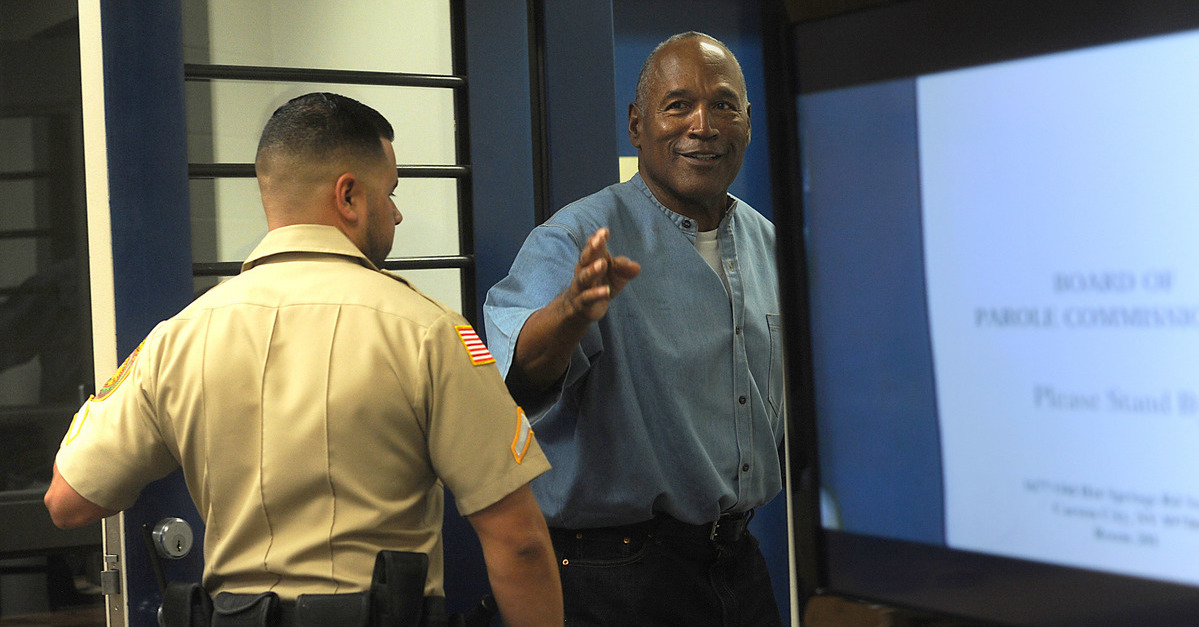 O.J. Simpson did not act alone when he allegedly killed Nicole Brown and Ron Goldman at his home in Los Angeles County on June 13, 1994, according to a man who claims to be Simpson's former longtime manager.
Norman Pardo worked with Simpson for almost 20 years after the NFL player turned actor was controversially acquitted over the grisly Brentwood slayings. Pardo, who describes himself as a friend of Simpson's, is currently four years deep into the production of a documentary film operating on the thesis that Simpson "didn't act alone," according to New York-based gossip magazine Page Six.
According to Simpson's current attorney Malcolm LaVergne, however, Pardo isn't exactly who he says he is. In a phone interview with Law&Crime, LaVergne disputed Pardo's claim that he ever served as Simpson's manager.
"Norman Pardo is almost like herpes–he flairs up every once in a blue moon. Around the time of the parole hearing he popped up again." LaVergne said. "Norman Pardo was never ever ever ever Simpson's manager. Simpson has never really used a manager throughout his career. He had an agent for his acting career because he had to."
LaVergne described the genesis–and what he says was the extent–of the Simpson-Pardo relationship:
Simpson didn't meet Pardo until he was living in Florida in the 2000s. Pardo is a good old boy–sort of a redneck type. And Pardo was previously one of Simpson's biggest defenders. I'd put him in the category of Simpson groupies. Pardo is involved in all kinds of stuff–this and that–booking night club meetings and such. He's a ne'er-do-well. So, Pardo heard Simpson was in Florida and essentially befriended him. They were never close friends, but they were friendly.
Simpson's attorney said their relationship has been strained since 2013 because of Pardo's statements about his alleged managerial relationship with Simpson. LaVergne said he even previously sent Pardo a cease-and-desist letter regarding those alleged business manager claims.
LaVergne did note that Pardo scheduled a few paid night club experiences for Simpsons, but said the number was "less than five [and] that's not a business manager relationship…Simpson liked this guy–he liked his good old boy style. There was a relationship, but he was never a manager. Never."
Regarding that contract dispute about the alleged manager-client relationship, LaVergne said it all came to a head last year. "I asked him. I said 'Put up or shut up,'" But, LaVergne says, he never once saw an alleged contract naming Pardo as Simpson's manager. "I never heard from him until this Page Six story."
In that story, Pardo teased the scope of the currently-in-production series in comments to the outlet. He said:
For the first time, the most thorough investigation into the murder ever conducted will be shared with America. We have assembled a team of internationally renowned criminal investigators, experts and lawyers. And they believe they can not only prove Simpson was involved in their deaths — but for the first time reveal he had at least one accomplice.
In addition to the promised experts and their potential gumshoe-like and problem-solving skills, Pardo also claims the series will contain a massive amount of new material–including around 70 hours worth of Simpson footage that's never before been released to the public.
LaVergne thinks he knows where that footage comes from–and that it's probably not as salacious as promised.
"Here's the kicker," LaVergne said, "Norman Pardo asked if he could film Simpson going into and out of airports and restaurants and places like that and said he could maybe turn it into a reality T.V. show. He could never turn it into anything, though, so I think he's probably trying to repackage that footage now."
Pardo's co-executive producer on the project, is Dylan Howard, a journalist who currently serves as the vice president and chief content officer at American Media Inc., the company which publishes The National Enquirer.
According to Page Six, the duo will pitch the as-yet-unnamed documentary series "to streaming services, cable and premium networks to coincide with the 25th anniversary of the homicides of Nicole Brown and Ron Goldman."
Simpson's attorney isn't convinced much will come of the would-be documentary series. In comments to Law&Crime he reiterated his position on Pardo's claims:
Norman Pardo is the biggest bullshitter I've ever met–and there are a lot in the Simpson saga. He's the biggest one.
[image via Jason Bean-Pool/Getty Images]
Follow Colin Kalmbacher on Twitter: @colinkalmbacher
Editor's note: this story has been amended post-publication to include comment from Simpson's attorney.
Have a tip we should know? [email protected]