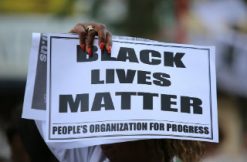 The Chicago branch of Black Lives Matter filed a lawsuit against the Chicago Police Department (CPD) early Wednesday morning. One of multiple named plaintiffs, the advocacy group is requesting that the beleaguered police department be put under the supervision of a federal court in order to address its checkered history of race-based policing, excessive force, and constitutional violations.
The lawsuit reads:
For years and continuing to this day, the City of Chicago has employed a pattern and practice of excessive force that adversely affects all people in Chicago, but that disproportionately and intentionally targets Black and Latinx individuals … It is clear that federal court intervention is essential to end the historical and on-going pattern and practice of excessive force by police officers in Chicago.
Filed on the heels of Chicago Mayor Rahm Emanuel's broken promise to subject the CPD to judicial oversight, the class action is careful to note that a "pattern and practice" underlies the police department's illicit behavior rather than simply being the result of a few bad apples.
Emanuel made the promise in the wake of a landmark report issued by the Obama era Department of Justice which found that the CPD had, for years, engaged in exactly the kind of behavior the Black Lives Matter lawsuit alleges.
The Justice Department's report noted: "A code of silence exists, and officers and community members know it."
In an apparent attempt to echo the DOJ's language, the lawsuit goes on:
CPD officers abide by an ingrained code of silence and 'warrior mentality' wholly disconnected from the policies that exist on the books. The 'thin blue line' reigns supreme. The City of Chicago has proven time and time again that it is incapable of ending its own regime of terror, brutality and discriminatory policing.
The 'thin blue line' refers to an internal code of solidarity among police officers which forbids the reporting of abusive and unlawful practices.
Emanuel had initially responded to the accusations in the DOJ's report with a pledge to turn the CPD over to federal supervision. As mentioned above, the Democratic mayor then backtracked on that pledge, instead coming to an agreement with the Trump administration to keep the courts out of it by subjecting the CPD to monitoring without judicial oversight.
Black Lives Matter and the other plaintiffs are seeking a city-wide injunction against the CPD prohibiting the use of excessive force and racially-discriminatory policing practices, as well as an independent monitor accountable and accessible to the public.
[image via Shutterstock]
Follow Colin Kalmbacher on twitter: @colinkalmbacher
Have a tip we should know? [email protected]