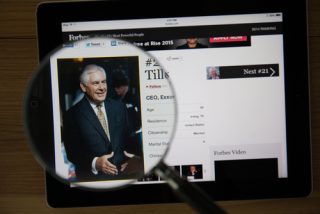 On Tuesday, Donald Trump made it official. After a long list of contestants, he made his pick final: Rex Tillerson, the CEO and Chairman of the Exxon Mobil Corporation, will get the much coveted position as our next Secretary of State. Trump's been singing his praises via Twitter.
The thing I like best about Rex Tillerson is that he has vast experience at dealing successfully with all types of foreign governments.

— Donald J. Trump (@realDonaldTrump) December 13, 2016
But has Tillerson always been a fan of his new boss? According to Federal Election Commission records examined by LawNewz.com, Tillerson has been a huge political donor for years. Over the last ten to fifteen years, he's donated nearly a half a million dollars to various Republican candidates, political action committees, and the Republican Party itself. One candidate conspicuously absent from his donor list: Donald Trump. Tillerson has never donated a dime to the real estate mogul's presidential campaign effort.  So who did Tillerson support during the 2016 presidential election? Records indicate Tillerson was an early Jeb Bush supporter. Last September, he maxed out the allowable individual political donation by giving $2,700 to the Jeb Bush campaign.
In addition to Bush, during this election cycle Tillerson also donated $33,400 to the National Republican Senate Committee, the Roy Blunt campaign committee, Right to Rise USA (a pro-Jeb Bush PAC), and the Exxon Mobil PAC.
The New York Times listed Tillerson as one of the highest paid CEO's in the country. In 2016, he earned an estimated $24.3 million, coming in at number 29.   Tillerson is also ranked #25 on Forbes' The World's Most Powerful List.  He'll have to take a bit of a pay cut when he joins the Trump administration. The most current Secretary of State, John Kerry, only pulls in around $200,000 annually. Trump has indicated many of his wealthier administration picks will opt only to receive $1 in compensation. No word if Tillerson will be among that list.
Have a tip we should know? [email protected]
Rachel Stockman - President / On Air Host