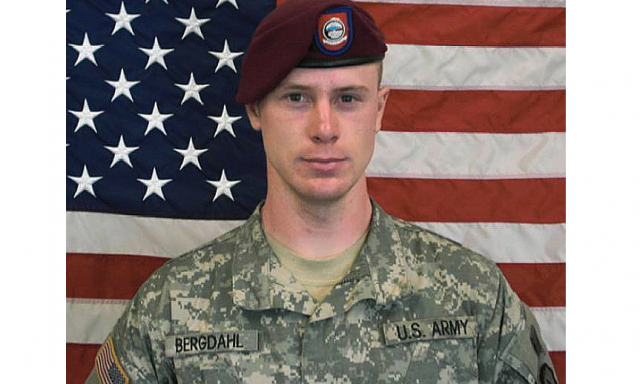 RALEIGH, N.C. (AP) — Army Sgt. Bowe Bergdahl returns to a military courtroom at Fort Bragg Wednesday for his sentencing hearing, where prosecutors plan to present evidence that fellow service members were seriously wounded in a fruitless search for him after he abandoned his post in Afghanistan.
Prosecutors are expected to start calling witnesses to discuss these search missions and resulting wounds to multiple soldiers and a Navy SEAL , which the judge ruled would not have happened had Bergdahl not endangered his comrades in 2009. They include an Army National Guard sergeant who suffered a traumatic brain injury after being shot in the head and a Navy SEAL whose career was ended by a leg wound.
The 31-year-old soldier who spent five years as a Taliban prisoner faces up to life behind bars in the U.S. after pleading guilty to the rare charge of misbehavior before the enemy as well as desertion.
President Donald Trump's criticism looms over the case. The military judge, Army Col. Jeffery R. Nance, has yet to rule on a defense motion that Bergdahl can't get a fair sentence with the Republican as commander in chief.
Nance said Monday that he would be fair and hasn't been influenced by Trump, but that he does have concerns that the president's comments are affecting public perceptions.
Legal scholars say Nance's comments Monday should resolve the issue of whether Trump directly influenced the court, but the judge must also consider whether proceedings would appear unfair to a reasonable observer, under a concept called apparent unlawful command influence.
While campaigning for president, Trump repeatedly called Bergdahl a traitor and suggested that he be shot or thrown from a plane without a parachute. Nance ruled in February that those comments didn't constitute unlawful command influence, noting that Trump was a civilian candidate for president at the time. The defense argued that Trump revived his campaign comments the day of Bergdahl's plea hearing, by saying at a news conference that he thinks people are aware of what he said before.
Prosecutors made no deal to cap Bergdahl's punishment, so the judge has wide leeway to decide his sentence. Several more days of testimony are expected.
Bergdahl, from Hailey, Idaho, was captured after walking off his remote post in 2009 and held by Taliban allies for five years. He has said he was caged, kept in darkness and beaten, and tried to escape more than a dozen times before President Barack Obama brought Bergdahl home in 2014 in a swap for five Taliban prisoners at Guantanamo Bay.
This article was written by Jonathan Drew of the AP.
Have a tip we should know? [email protected]