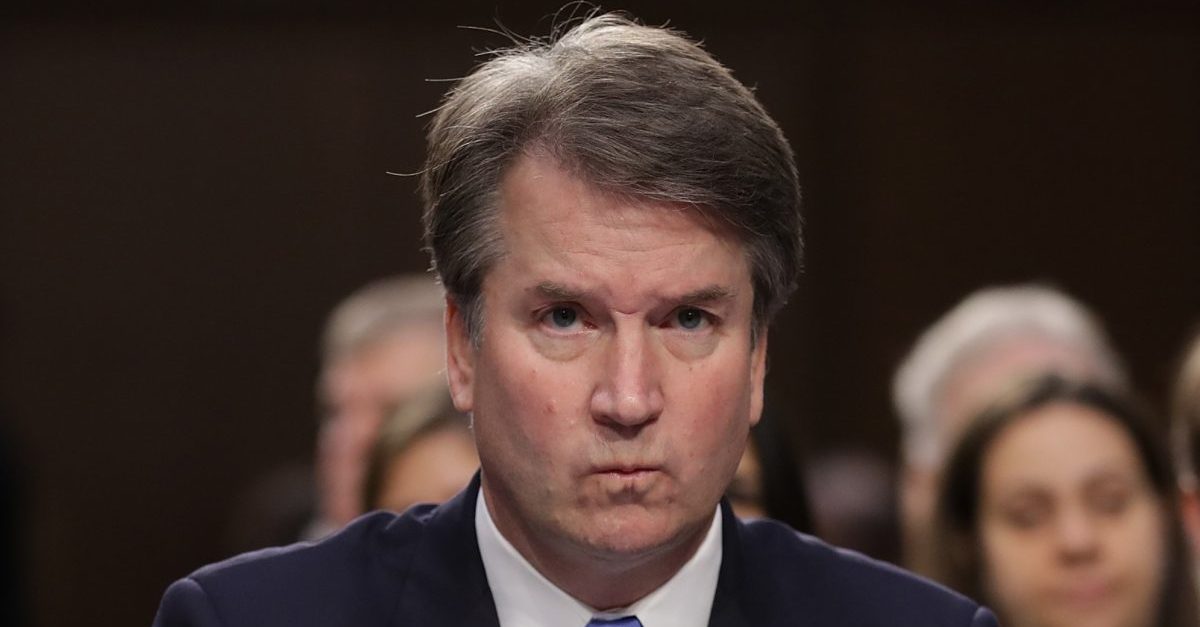 Stormy Daniels' attorney Michael Avenatti said he had a client with "credible information" about Brett Kavanaugh and his friend Mark Judge engaging in sexual misconduct back in the 80s and she has come forward own Wednesday with a statement.
Julie Swetnick, pictured below, claims that she met Judge and Kavanaugh in "approximately 1980-1981" at house party in the Washington, D.C. area. She described the two as "joined at the hip." Kavanaugh has been accused of attempted sexual assault by Dr. Christine Blasey Ford. Ford said Judge witnessed it. Both men have denied it.
Swetnick claimed that she witnessed Kavanaugh and Judge at parties engaging in "highly inappropriate conduct, including being overly aggressive with girls and not taking 'no' for an answer." She said this included fondling without consent.
She said that she observed Kavanaugh "drink[ing] excessively" at many parties, which she said happened "nearly every weekend during the school year."
She further alleged that he made crude sexual comments about women, that she witnessed him "grinding against" girls without their consent and witnessed him "consistently engage in excessive drinking and inappropriate contact of sexual nature with women during the early 1980s."
"Below is my correspondence to Mr. Davis of moments ago, together with a sworn declaration from my client. We demand an immediate FBI investigation into the allegations," Avenatti said. "Under no circumstances should Brett Kavanaugh be confirmed absent a full and complete investigation."
Swetnick claimed that she "became aware of efforts by Mark Judge, Brett Kavanaugh and others to 'spike' the 'punch' at house parties I attended with drugs and/or grain alcohol so as to cause girls to lose their inhibitions and their ability to say 'No.'"
"I also witnessed efforts by Mark Judge, Brett Kavanaugh and others to cause girls to become inebriated and disoriented so they could be 'gang raped' in a side room or bedroom by a 'train' of numerous boys," she continued.
"I have a firm recollection of seeing boys lined up outside rooms at many of these parties waiting for their 'turn' with a girl inside the room. These boys included Mark Judge and Brett Kavanaugh," she said. "In approximately 1982, I became the victim of one of these 'gang' or 'train' rapes where Mark Judge and Brett Kavanaugh were present."
Swetnick claimed she shared this information at the time "with at least two other people."
"I was incapacitated without my consent and unable to fight off the boys raping me," she added. "I believe I was drugged using Quaaludes or something similar placed in what I was drinking."
He also tweeted a picture of Swetnick.
Swetnick says that she has active clearances at the U.S. Department of the Treasury, U.S. Mint and the Internal Revenue Service. She said that she has inactive clearances at the State Department, the Department of Justice, Homeland Security and Customs and Border Protection.
Swetnick is now the third woman to come forward by name with accusations against Kavanaugh. First it was Dr. Ford and then it was Kavanaugh's former Yale colleague Deborah Ramirez.
Update: According to NBC News, Kavanaugh has said the following in response to Swetnick's allegations:  "This is ridiculous and from the twilight zone. "I don't know who this is and this never happened."
Mark Judge also denied the allegations.
Editor's note: this story was updated after publication with Brett Kavanaugh's statement denying the allegations.
[Image via Chip Somodevilla/Getty Images]
Have a tip we should know? [email protected]