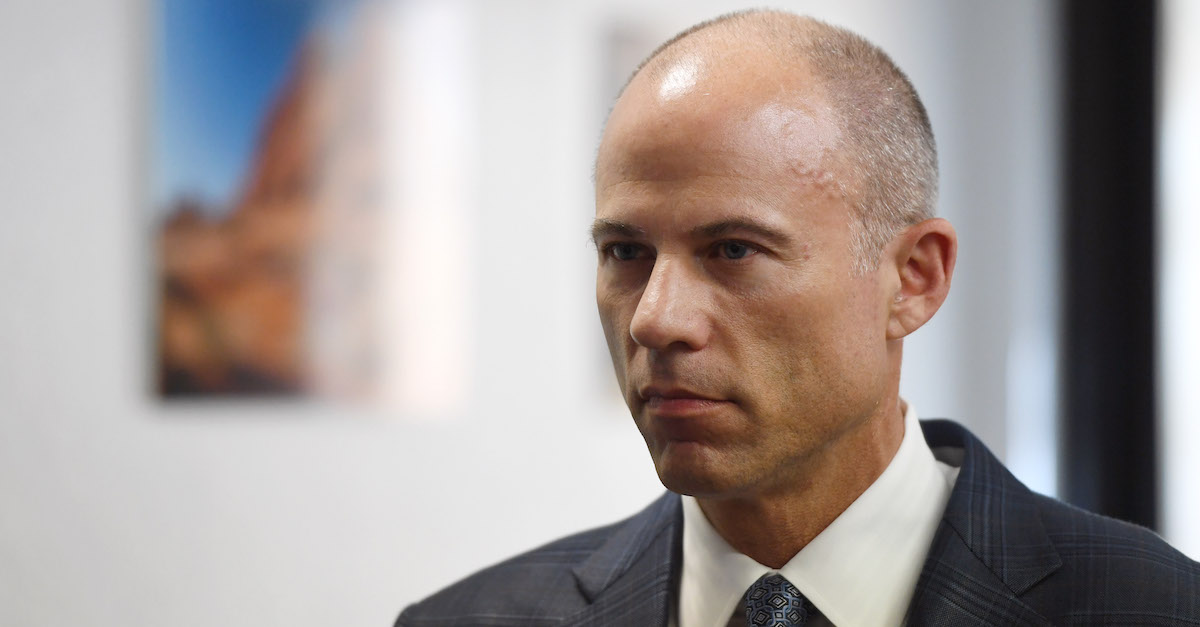 When President Donald Trump's lawyer Charles Harder first named his price when it came to legal fees that Stormy Daniels should pay as part of her loss in the defamation lawsuit against Trump, her attorney Michael Avenatti scoffed, claiming they were unreasonably high. In a new court filing, Harder fired back, stating that not only is the number increasing, but Avenatti's own tweet shows his rates for representing Daniels are even higher.
After Trump and Harder demanded $340,000 in court on Monday, Avenatti called the amount "staggering and grossly inflated." Also on Monday, Avenatti tweeted in response to a separate story about his own costs for representing Daniels. Last week, she told The Daily Beast that she had questions about the money Avenatti raised for her expenses and where the funds were going. Since then, she said she and Avenatti have ironed things out. Attached to Avenatti's tweet was a document that included the number of hours he and his associates have spent representing Daniels, and how much that amounts to in legal fees.
Harder noted something very interesting about those numbers, which he pointed out in a declaration he filed with the court Monday afternoon.
"According to the figures contained in Mr. Avenatti's Tweet, the average hourly rates billed by attorneys at his firm for their representation of Plaintiff is $688.11 ($1,638,390 divided by 2,381 billable hours)," Harder observed [emphasis in original]. "In contrast, the average hourly rate of Mr. Trump's attorneys for the fees sought in the Motion is $670.52 ($389,403.11 divided by 580.75 hours)."
There has been a lot of misreporting about the money @StormyDaniels and I raised for her legal costs/expenses. See the real facts below. As you can see, we did not do this for the money. We did it because it was the right thing to do. And we will continue to do so. #Basta pic.twitter.com/q7DYtpeguv

— Michael Avenatti (@MichaelAvenatti) December 3, 2018
Harder is claiming that Avenatti's rates are even higher than his own, which Avenatti said were too high to begin with. Avenatti told Law&Crime that his description of Harder's fees as "staggering and grossly inflated"  was pertaining "to the claim for nearly $400,000 in fees and costs," but multiple reports from November attributed the quote to Avenatti's comment on the earlier sum of $341,559.50.
To pour salt on the wound, Harder noted that the amount he and Trump are seeking is higher than he initially estimated, and it's because of all the work Avenatti is making him do.
"Additional time beyond my estimate for the Reply brief was necessary," Harder wrote, "to review and distinguish the thirty (30) cases cited in Plaintiff's eighteen (18) page Opposition, analyze Mr. Avenatti's declaration and the Real Rate Report relied upon by Plaintiff, prepare evidentiary objections to Mr. Avenatti's declaration, and address each of Plaintiff's procedural and substantive arguments, all while condensing the Reply brief into five (5) pages."
Harder also said he had to spend more time than expected preparing an outline countering Avenatti's arguments for Monday's hearing. Oh, and he also noted the additional time spent on the very declaration where he said all this.
All told, the number has now gone from the estimated $340,000 to $389,403.11.
[Image via Ethan Miller/Getty Images]
Have a tip we should know? [email protected]