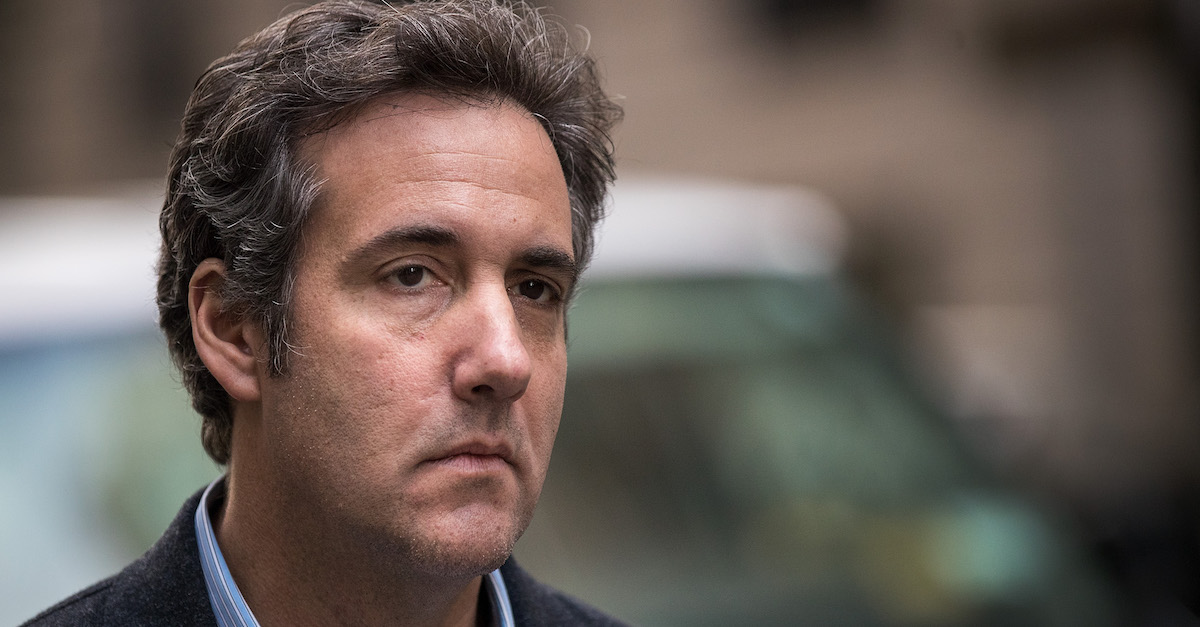 Stormy Daniels' attorney Michael Avenatti has once again dropped some docs on Twitter, and this time they show that Daniels' former lawyer Keith Davidson had been keeping Michael Cohen in the loop and vice versa on press inquiries about her as recently as February.
Davidson is a California attorney who represented Stormy Daniels in negotiating her nondisclosure agreement (NDA) with Donald Trump's lawyer Cohen. He also represented former Playboy model Karen McDougal, who has also said she had a sexual relationship with Trump. Davidson represented her when she sold her story to the parent company of the National Enquirer, who subsequently sat on it.
"See below. Why were Mr. Cohen and Mr. Davidson communicating in this fashion earlier this year? It was entirely inappropriate and prejudicial to my client," he tweeted. "If Mr. Cohen had nothing to hide, then why go to these efforts to cover it up? #TrumpTapes #Basta"
The emails show that Davidson forwarded an email to Cohen when contacted by CNN and Cohen forwarded an inquiry to Davidson when the Associated Press had questions.
"It doesn't pass the smell test. At all," Avenatti told Law&Crime. 
The first email is from Jan. 2018 and it shows Davidson giving Cohen a heads up about a CNN inquiry.

CNN asked Davidson questions like whether the $130,000 for Daniels' silence came from Trump's personal funds, Cohen's funds, the Trump Organization or the Trump campaign.
Davidson was still representing Daniels at the time he forwarded the CNN inquiry.
In a second email from February, Cohen forwarded AP questions about the breach of the NDA.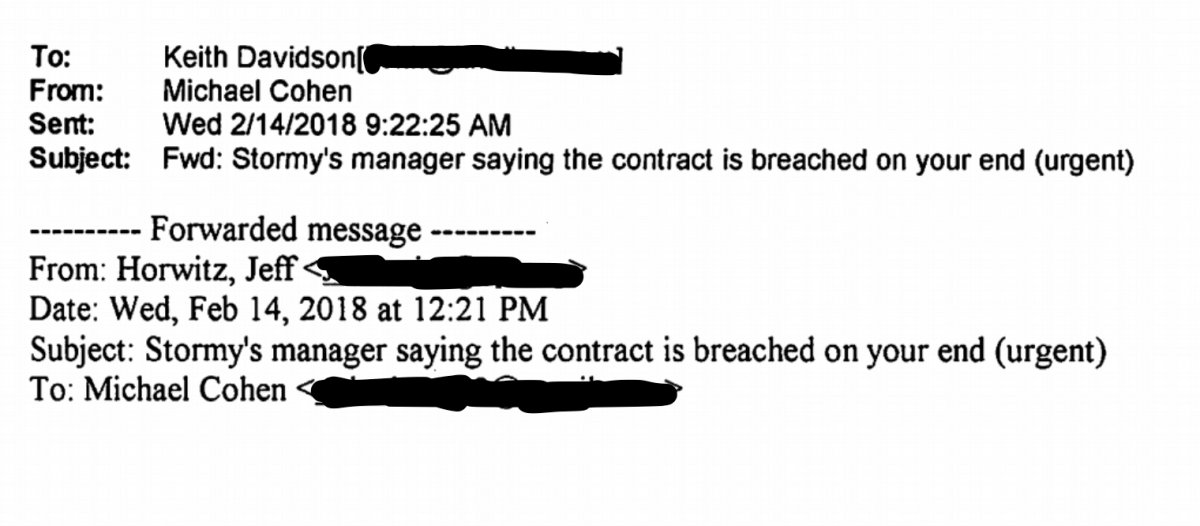 They asked if Cohen disputed if the contract was breached, if he would release Daniels from the NDA or if he could address whether this was a "shakedown."
As Law&Crime's Ronn Blitzer reported in April, Daniels filed a motion (which was later withdrawn) to intervene in the matter of the search warrants used to raid Cohen's office, home, and hotel.
Daniels claimed that among the documents the FBI recovered could be communications between her and former lawyer Keith Davidson, communications that Davidson may have leaked to Cohen. She also expressed concern that Cohen may possess records of communications he had with Davidson where Davidson revealed confidential information about Daniels. This includes possible information regarding the settlement agreement she made to remain silent regarding an alleged affair she had with Donald Trump in exchange for $130,000.
The motion said that Daniels wanted to acquire and review any such records, "including emails, text messages, and possibly audio recordings."
McDougal claimed in a lawsuit of her own that she used Davidson as her attorney when she negotiated an agreement to remain silent regarding her own alleged affair with Trump. McDougal alleged that Davidson and Cohen had really been working together to secure her silence.
Avenatti's emails confirm that Cohen and Davidson communicated about press questions related to Stormy Daniels and the nondisclosure agreement.
Dave Wedge, a spokesman for Davidson, gave Law&Crime the following statement in response:
As Mr. Avenatti fully knows, Attorney Davidson is unable at this time to respond point-by-point to each one of the numerous false and misleading accusations made by him over the last several months. Mr. Avenatti continues to use Twitter to launch defamatory charges against Attorney Davidson, knowing full well that Attorney Davidson cannot respond and that he has always been a zealous advocate for the best interests of his clients. Attorney Davidson looks forward to responding to these scurrilous accusations in an appropriate manner.
Law&Crime has also reached out to Cohen for comment.
Ronn Blitzer contributed to this report.
Editor's note: this story was updated after publication with a statement from a spokesperson for Davidson.
[Image via Drew Angerer/Getty Images]
Have a tip we should know? [email protected]