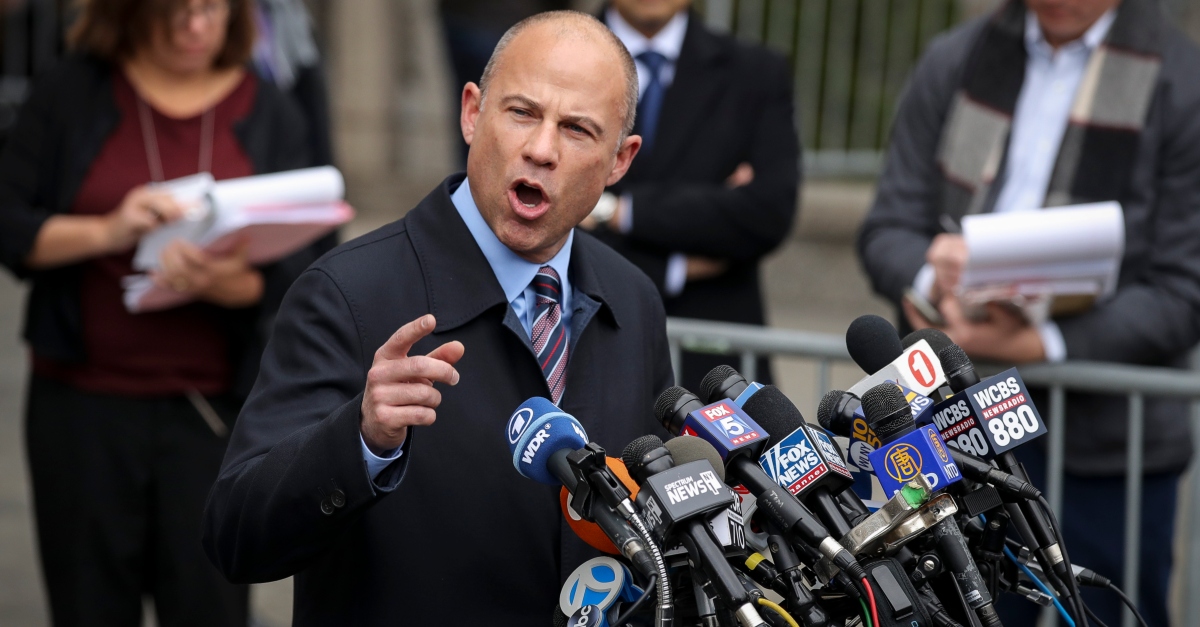 Attorney Michael Avenatti called out Harvard Law Professor Alan Dershowitz for threatening to sue Democrat Claude Taylor, who accused Dershowitz of having sex with minors forced by convicted billionaire pedophile Jeffrey Epstein.
.@AlanDersh – since when does a real lawyer demand someone's address so they can sue them? You don't know how to get this info on your own? These baseless threats are yet further evidence that you are now only a tool for the right. #Discoveryhttps://t.co/40RAJ7Wo8f

— Michael Avenatti (@MichaelAvenatti) December 23, 2018
Virginia Roberts and Sarah Ransome separately claimed that Epstein forced them to have sex with Dershowitz. The Harvard professor categorically denied the claims. In a December 4 interview with Law&Crime Network host Brian Ross, he called Roberts a "certified, complete, total liar" who made allegations from behind the protection of litigation against Epstein.
Ransome settled a lawsuit with Epstein over her claims that he and Ghislaine Maxwell forced her into prostitution.
"I've never met this woman, I don't know her, I never heard of her," Dershowitz told The New York Post about Ransome. "She just made it up completely."
That's where Claude Taylor comes in. He once worked in the Clinton White House, and later started the Mad Dog PAC. The group has been known for getting billboards and selling merchandise needling President Donald Trump and other right-wingers. Well, he caught wind of the Ransome settlement, and dared Dershowitz to sue him.
I recall @AlanDersh last year told me I should go ahead and accuse him so he could sue me for defamation. I accuse @AlanDersh of knowingly and repeatedly having sex with minors associated with Jeffrey Epstein. Your move, Alan. #Discovery https://t.co/aPfIH4hcS3

— Claude Taylor (@TrueFactsStated) December 21, 2018
Dershowitz responded, and promised a lawsuit.
"Privately message me your contact information/address so I can immediately file suit against you," he wrote. "I accept your challenge."
Hence Avenatti and his "tool for the right" tweet. Dershowitz, a self-avowed liberal, has developed a reputation for staunchly defending Trump in the media. In any case, this is just another chapter in the ongoing friction between these two lawyers. Dershowitz has criticized Avenatti's work before, and he shot back.
Taylor apparently welcomed Avenatti getting involved, and retweeted his "tool for the right" post Sunday morning. We asked Dershowitz for comment.
"Whether or not he provides his address, I will sue him and anyone else who falsely accuses me," he told Law&Crime in an email regarding Taylor. "But why has he not provided his address to me so I can serve him?"
Taylor and an attorney released a statement promising to meet any lawsuit head on.
Statements from Claude Taylor and Dirk Schwenk released to press this day: pic.twitter.com/gQ2ERChH4u

— MadDogPAC (@maddogpac) December 23, 2018
"If Mr. Dershowitz files suit, we look forward to discovery where we can establish the truth," Taylor wrote. "Dershowitz and Epstein have operated under cover of sealed files and non-disclosure agreements for far too long."
Update – 12/24/18: In an additional statement to Law&Crime, Dershowitz said:
You say that my false accusers "separately claim" they had sex with me. These false claims are anything but separate.  The second was engineered by David Boies who represented and made money off of both false accusers. When I definitely disproved the first false accusation and filed a bar complaint against Boies for bringing it, he threatened to come up with another woman to falsely accuse me. He found Sarah Ransome, a crazy woman who told the New York Post she had sex tapes of Hillary and Bill Clinton as well as president Trump and other public figures. When she couldn't produce the nonexistent tapes, the Post refused to publish her hallucinatory accusations, finding her non-credible.  But Boies still submitted a perjured affidavit from her. Boies apparently has a lower standard of credibility that Page 6.  So much for my false accusers being separate. They are both part of a coordinated plot to frame me by Boies for money and revenge.
[Image via Drew Angerer/Getty Images]
Have a tip we should know? [email protected]