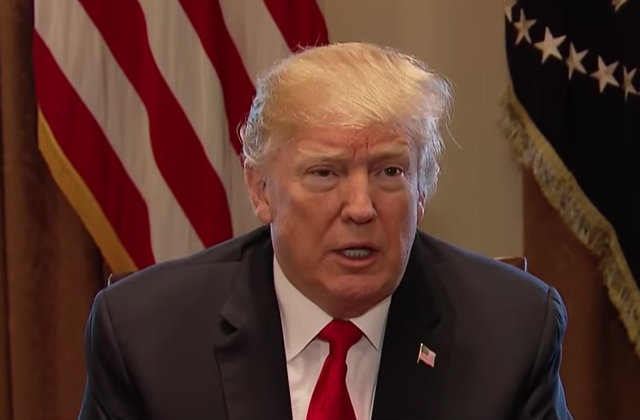 A Florida attorney has been trying to get our commander-in-chief declared mentally unfit, and he is taking his case to the Supreme Court.
It's safe to say our POTUS has an…idiosyncratic style. For example, dissing an TV show host's supposed facelift, or using a wrestling meme to call out a media outlet he dislikes. It's hard to think of another president who acted in this way. Even so, is that kind of behavior something that could get him declared mentally incompetent?
Florida attorney James Herb has been trying for over a year now, even before the November 2016 election. He argues that President Trump's actions seem to be consistent with Histrionic Personality Disorder, Narcissistic Personality Disorder, and displays of delusional beliefs.
In his petition to the Supreme Court, Herb cited all sorts of behavior covered in the media. This includes Trump's attacks on Sen. John McCain (R-Arizona), his attacks on TV show host Rosie O'Donnell, his claim that Barack Obama founded ISIS, and a complaint on how he was treated by Mexican-American Judge Gonzalo Curiel. Basically, it's a best hits edition of the president's controversial statements.
Will the Supreme Court hear the case? It's a long shot. Justices only take on a small proportion of petitions (only up to about 150 out of 7,000 a year, according to the Administrative Office of the U.S. Courts). Herb, an attorney whose firm specializes in probates, trusts, and guardianship, hasn't been having the best of luck up to this point. He filed a petition in January 30, 2017 with a Florida court to determine that the president was mentally incapable of discharging the offices of the presidency.
That failed. Here's how he explained the state court's reasoning in his petition to the Supreme Court:
First, that the First Amendment prohibits the use of the 200 statements (made by the alleged incapacitated person during the presidential campaign or before) from being asserted as support for a state court petition to determine mental incapacity.

Second, that the President has absolute immunity from judicial action while in office, including immunity from a state court action to determine mental incapacity.

Third, that the Twenty-fifth Amendment provides the exclusive mechanism to remove a President who lacks mental capacity to fulfill the duties of his office, precluding a state court action to determine his mental capacity or incapacity.
Long story short, the First Amendment, the president's immunity from judicial action, and the 25th Amendment get in Herb's way, according to the state court. He appealed to the Fourth District Court of Appeal
for Florida, who denied his motion for a rehearing en banc last December.
Now, Herb wants the Supreme Court to decide if 1) the First Amendment stops an individual's prior statements from being used in state court mental incapability proceedings for that person; 2) whether the president's immunity from judicial actions while in office covers state court mental incapacity proceedings, and 3) whether the 25th Amendment stops state courts from hearing mental incapacity proceedings on the president.
Herb wrote that his petition to the state court did not ask for Trump to be removed from office, just determined mentally incapable.
Until justices agree to hear the case, however, the petition remains just one out of many attacks on an embattled and controversial president. Until then, our commander-in-chief will have you know that he is a "stable genius."
Now that Russian collusion, after one year of intense study, has proven to be a total hoax on the American public, the Democrats and their lapdogs, the Fake News Mainstream Media, are taking out the old Ronald Reagan playbook and screaming mental stability and intelligence…..

— Donald J. Trump (@realDonaldTrump) January 6, 2018
….Actually, throughout my life, my two greatest assets have been mental stability and being, like, really smart. Crooked Hillary Clinton also played these cards very hard and, as everyone knows, went down in flames. I went from VERY successful businessman, to top T.V. Star…..

— Donald J. Trump (@realDonaldTrump) January 6, 2018
….to President of the United States (on my first try). I think that would qualify as not smart, but genius….and a very stable genius at that!

— Donald J. Trump (@realDonaldTrump) January 6, 2018
[Screengrab via MSNBC]
Have a tip we should know? [email protected]