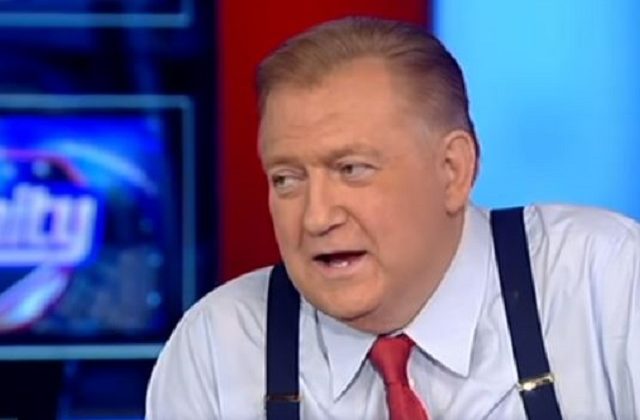 On Friday, Fox News announced the termination of Bob Beckel, one of the hosts of the network's show, "The Five." A statement from the network reported by Variety, said, "Bob Beckel was terminated today for making an insensitive remark to an African-American employee."
Now, the law firm representing that employee—as well as more than a dozen other current and former employees in discrimination lawsuits against Fox News and parent company 21st Century Fox—is bashing the network for not giving the whole story. Attorneys Douglas H. Wigdor and Jeanne Christensen, who represent the employee who Beckel reportedly insulted, gave a little more detail in a message sent to LawNewz.com.
"Mr. Beckel stormed out of his office when our client, a Black IT employee came to service his computer, telling our client that he was leaving his office because he is Black," the attorneys said in a statement. They also allege that when their client went to lodge a complaint against Beckel, Fox News Chief Human Resource Officer Kevin Lord tried to intimidate him and convince him to withdraw the complaint.
Wigdor and Christensen said that they "intend on holding 21st Century Fox accountable for these actions."
A Fox News spokesperson disputed the attorneys' claim that Lord tried to get the employee to withdraw his complaint. In a statement to LawNewz, the spokesperson said:
As Mr. Wigdor knows, Fox News made the decision to terminate Mr. Beckel after a prompt and thorough investigation. His client raised the complaint to Kevin Lord, EVP Human Resources, on Tuesday evening via email and within 7 minutes Mr. Lord responded and began the investigation. Today, Fox News delivered that message to Mr. Beckel and facilitated an apology from Mr. Beckel to the employee minutes after he was terminated. No one tried to persuade Mr. Wigdor's client to withdraw his complaint.
This article has been updated with a statement from a Fox News spokesperson.
[Image via Fox News screengrab]
Have a tip we should know? [email protected]