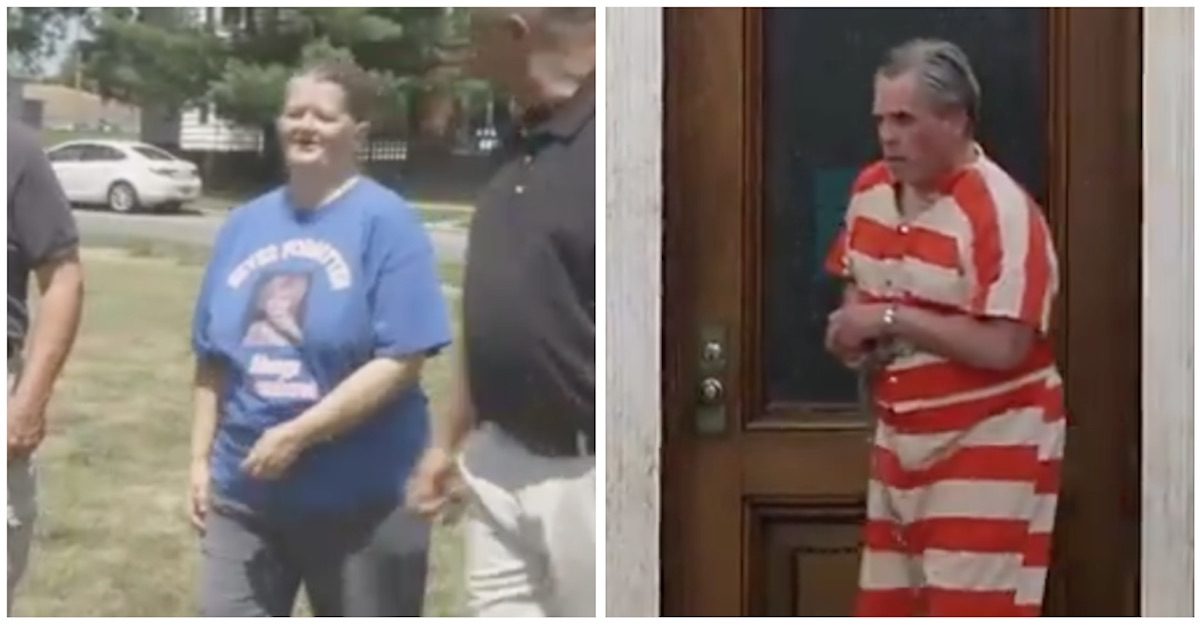 Janet Tinsley may not have thought the day would come that police would make an arrest in the murder of her daughter April Marie Tinsley, which happened three decades ago. Now that it has happened, she wants the accused murderer to know she'll be "pushing the button" if he gets the death penalty.
Indiana police announced on Monday that they had arrested 59-year-old John D. Miller for the rape and murder of 8-year-old April Tinsley in 1988.
"It was like you got that chill feel that goes from the top of your head down to your toes," Janet Tinsley told NBC Fort Wayne about how she felt when she heard the news. "I'm not sure what he should get, but I'm sure he'll get what he deserves."
In a separate interview with the Journal Gazette, however, Tinsley said she believes Miller deserves the death penalty.
"If he does get the electric chair or the gas chamber or whatever, I'm going to be there and I'm going to be pushing the button," she said. "I want to be the last face he sees."
At least one other local agreed that Tinsley should be the one who "gets to pull the switch."
Janet Tinsley reported her daughter missing back on April 1, 1988 from their home in Fort Wayne, Indiana. The girl's body was discovered three days later northeast in a ditch along Country Road 68 in Spencerville. One of her shoes was discovered about 1,000 feet away from her body.
Medical examiners determined she died of asphyxiation, and had been sexually assaulted–forensic examiners discovered DNA from an unknown male, according to the affidavit. This was a homicide case, but there would be no development for more than two years.
That changed on May 21, 1990. Detectives were called to the scene of a barn where someone wrote that they had killed "8 year old April M Tinsley did you find her other shoe haha I will kill agin."
Another 14 years passed until the next development. In 2004, four notes were left at residences around the Fort Wayne area, several of which were put on bicycles belonging to young girls, said the FBI. These notes were written on lined yellow paper, put inside bags with used condoms or Polaroid pictures of a man's body.
"Hi, honey, I been watching you," said a letter published by the FBI. The writer identified himself as Tinsley's rapist and killer, and said that the reader would be his next victim. He threatened to blow up her home if police and reporters weren't told about this.
A total of three used condoms were left behind by the killer, each one at a single residence, the police affidavit said.
Investigators determined through testing that the DNA on the used condoms was consistent with the profile developed from Tinsley's underwear.
On May 11, 2018, a detective commissioned Parabon Nanolabs, a DNA analysis company, to run another test. The company narrowed down the results to Miller and his brother, according to the affidavit. Detectives ran surveillance on this suspect's home, took trash from his residence, and collected several items–including three used condoms, police said. The test linked the DNA found here to the 2004 and 1988 findings, police said.
Detectives confronted Miller in front of his home on Sunday. He agreed to talk at the Fort Wayne Police Department even after being advised of his rights, and when asked if he had any idea why cops wanted to talk to him, he said, "April Tinsley," according to the affidavit. Investigators told him they matched his DNA to the evidence left behind in 1988, as well as the condoms left behind in 2004, cops said.
They asked him what happened to Tinsley, but he allegedly answered, "I can't."
Miller could be seen in court as recently as Thursday morning, where it was expected that he would be formally charged for Tinsley's murder.
Alberto Luperon contributed to this report.
[Images via NBC Fort Wayne, Twitter screengrab]
Have a tip we should know? [email protected]