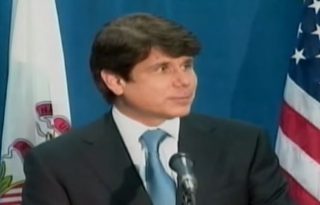 CHICAGO (AP) — A federal court took just three days to reject the appeal of imprisoned former Illinois Gov. Rod Blagojevich, dashing one of the Democrat's last hopes of getting out of prison before he has served his full 14-year sentence for corruption.
The unanimous ruling Friday by the 7th U.S. Circuit Court of Appeals in Chicago dismissed arguments that the trial judge should have reduced the 60-year-old's prison term at an August resentencing because of his good behavior during five years behind bars.
During the original 2011 sentencing, Judge James Zagel berated Blagojevich, saying he had "torn and disfigured" Illinois, including by seeking to trade an appointment to former President Barack Obama's old Senate seat for campaign cash. The 14-year sentence Zagel imposed was the longest in Illinois history for public corruption.
The 7th Circuit did toss five of 18 Blagojevich convictions in 2015 and ordered Zagel to resentence Blagojevich, though the appellate court left the decision up to the lower-court judge to cut time off the sentence. At the second sentencing in August, Zagel imposed the same 14-year sentence. That led to the now-rejected appeal.
Posting rulings so soon after oral arguments is rare, likely reflecting that the panel saw the decision as straightforward and that there was little disagreement among them. The one-time contestant on Donald Trump's "Celebrity Apprentice" could appeal, but the ex-governor's own attorneys said earlier this week that this was likely the end of the legal road.
In their written opinion, the three-judge panel rejected arguments made Tuesday that Zagel should have put greater weight on 100 letters from fellow inmates who described how Blagojevich taught history and served as a life coach to prisoners. The six-page ruling said that more relevant to his sentence was what Blagojevich did as governor before his 2008 arrest.
"Blagojevich's treatment of fellow inmates may show that outside of office he is an admirable person, but the court was entitled to impose punishment that reflects how Blagojevich behaved when he had a different menu of opportunities and to deter those who hold office today," the ruling says.
A prosecutor underlined to the court Tuesday that Blagojevich has never admitted serious wrongdoing.
"There's nothing anywhere where the defendant says, 'I apologize for putting my own personal interests ahead of the interests of the public I was charged with serving,'" Debra Bonamici said.
[Image via screengrab]
Have a tip we should know? [email protected]