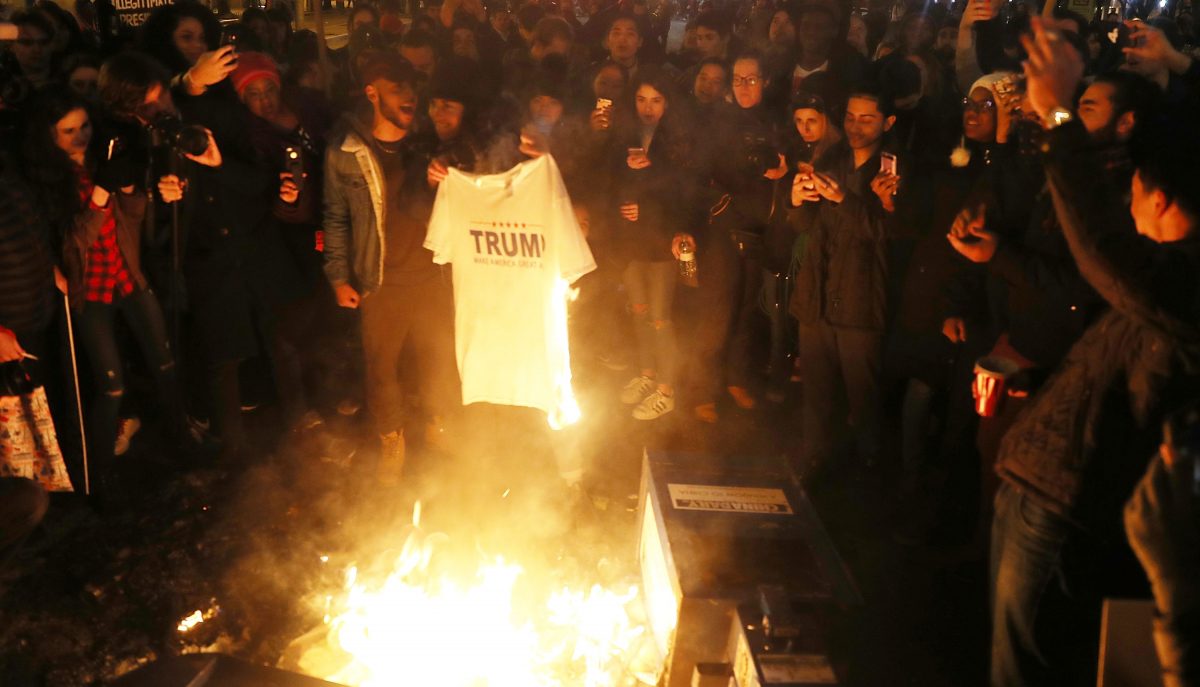 Ten men and women facing various felonies related to Inauguration Day protests against President Donald Trump had charges against them dismissed on Thursday, after unconstitutional and untoward behavior by the prosecution was discovered.
Assistant U.S. Attorney Jennifer Kerkhoff and her team appeared to have hid 69 recordings from the defense. Those recordings include 66 videos and three audio samples of the defendants originally made by employees at undercover media outlet Project Veritas.
The recordings reportedly show the defendants discussing methods to de-escalate tense situations and reveal their intent not to initiate violence with anyone else at the protest, a far cry from what the government has alleged in the case. Kerkhoff previously told Judge Robert Morin that no recordings existed from the meetings where those 69 recordings were made. In fact, at least 35 of those newly-revealed recordings were made at the meetings in question.
Defense attorney Andrew Clarke noted the alleged malfeasance in an overnight filing with the Washington D.C. Superior Court on Wednesday. He wrote:
The Government has succeeded in misleading over 200 co-defendants, their attorneys, and three Honorable Superior Court Judges to believe there were only seven videos in its possession from Project Veritas. Only by Order of the Court and more recently, its own disclosures, we now know the truth, that the Government withheld 69 additional recordings by Project Veritas and altered others.
Clarke's motion continues, "As the government admitted in its May 30, 2018 email to the Court, many of these videos from the action camp at American University involved discussions of de-escalation tactics. So if [a police officer] did see co-defendants at the action camp, it is disturbing that the government is taking the position that videos showing co-defendants teaching other codefendants how not to engage in violent protest is irrelevant to a case about violent protests."
Such evidence, Clarke noted, is "relevant, material, and exculpatory." While hiding said evidence and performing subterfuge in front of a federal court to conceal said evidence, Kerkhoff has spent the past several months arguing that the defendants played direct and key roles in an alleged conspiracy to riot.
Judge Robert Morin agreed with the defense, saying, '"I do think it's a serious violation."
Kerkhoff originally indicted in excess of 200 journalists and activists on those and related charges. After losing outright in a case against the first six defendants last December, Kerkhoff dropped charges against all but 59 individuals. Some of those individuals are going free on Thursday or soon thereafter. As noted by First Amendment attorney Chip Gibbons and others, however, multiple defendants still remain in other cases nominally related to those anti-Trump protests. The impact Wednesday's disclosures will have on those cases is presently unclear.
This isn't the first instance of prosecutorial misbehavior in the present case. Last week, Kerkhoff's team admitted to hiding a 55-minute-long video and purposely misrepresenting edits made to a different video. In sum, the 71 altered or hidden files suggest a wide-ranging conspiracy to conceal potentially exculpatory evidence in order to secure convictions. In federal law, that's known as a Brady violation.
The other Assistant U.S. Attorneys who took part in the government's prosecution of the #J20 journalists and activists are AUSAs Ahmed Baset and Rizwan Qureshi. Law&Crime repeatedly attempted to discuss Thursday's dismissals and the government's bad behavior leading to said dismissals. Neither Qureshi nor Kerkhoff responded to multiple voicemails.
Baset answered his phone but declined to comment on the case, saying, "I cannot take any media inquiries." When further pressed as to whether he personally took part in the apparent evidentiary cover-up, Baset replied, "I cannot answer any questions."
On Baset's request, Law&Crime then followed up with the public affairs line for the U.S. Attorney's Office for the District of Columbia. Multiple voicemails were left with that office as well, but no responses were forthcoming at the time of publication.
[image via Joe Raedle/Getty Images]
Follow Colin Kalmbacher on Twitter: @colinkalmbacher
Have a tip we should know? [email protected]