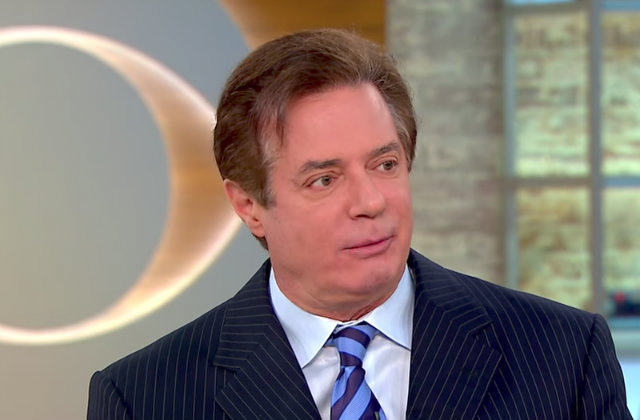 We've written before about some of the legal problems with the government's case against Trump's former campaign manager Paul Manafort. Now, the removal of FBI agent Peter Strzok from the Mueller probe could lead to even more problems–specifically as it relates to the case against Paul Manafort.
Recent revelations that Strzok sent anti-Trump messages to another member of the Mueller team will likely be used in motions by Manafort's defense team who could make hay of them in order to protect their client.
Strzok, according to reports, was the top FBI official assigned to special counsel Robert S. Mueller's team. He also headed up the Clinton email investigation. According to the The Washington Post, Stzork's departure came one week after news broke that the Mueller team had obtained a search warrant to raid Manafort's home.
It appears from reports that Strzok was also the top FBI official who would have likely signed off on an affidavit submitted to a judge to obtain the search warrant used to raid Paul Manafort's home–either personally or approved someone else to. Based on the timeline, Strzok was probably involved in a substantial portion of Mueller's investigation into Manafort as well.
During the surprise July 26th raid, agents busted into Manafort's house to collect documents and other materials related to the FBI probe into whether the Trump campaign colluded with the Russians. At the time, Manafort's attorney raised concerns about how the raid was conducted. They have indicated that they will file motions regarding the legal basis for, and sufficiency of, the charges and attempt to suppress evidence "improperly obtained by the search."
In order for the feds to obtain a warrant, a federal judge would have to determine that probable cause existed that a crime was committed. As part of the warrant, investigators attached an affidavit which contained a list of items that FBI agents hoped to collect. That's where the trouble appears to be in Manafort's case.
Through an older CNN article, we get a bit more of a hint about what specifically the agents may have gathered:
During that raid, Mueller's investigators took documents considered to be covered by attorney-client privilege, sources told CNN. Lawyers from the WilmerHale law firm, representing Manafort at the time, warned Mueller's office that their search warrant didn't allow access to attorney materials. The documents in question have now been returned, the sources say.
As the article points out, this certainly brings up concerns as to what exactly was seized, what investigators saw, and who handled the material. You can't "unsee" evidence once you saw it.
"If they (investigators) had any kind of heads up, and they went beyond the scope of the warrant, that could be a problem," Henry Hockeimer, a former federal prosecutor, told Law&Crime. 
In 2005, Eric D. McArthur, who coincidentally now serves as Deputy Associate Attorney General at the U.S. Department of Justice, authored an article about the Fourth Amendment implications if investigators collect attorney-client privileged information.
A similar issue came up recently in a case against Wall Street financier Benjamin Wey. A federal judge threw out all of the evidence gathered against him through warrants because the "sweeping" searches of his property violated his Fourth Amendment rights. Judge Alison Nathan found that the searches were "grossly negligent" in that they collected evidence that went beyond the scope of the warrant like medical records, and divorce records.
In the case of Manafort, it appears his lawyers warned investigators about the existence of attorney-client privileged documents and memos. If investigators didn't take the proper precautions to avoid collecting these documents, they could be in trouble for violating Manafort's constitutional rights.
Now, lawyers for Manafort have even more fuel to add to their argument because they can argue that the Manafort raid was part of a political vendetta. Whether that is true or not, the anti-Trump text messages sent by FBI agent Strzok would likely be used as evidence.
"While the big picture here is that this should not impact any of the charges filed against Manafort, the defense still will likely try to make some hay out of this," Hockeimer explained.  "If they aren't provided by Mueller's team in discovery I'd expect a discovery motion seeking the texts that provided the basis for the agent's transfer off the case.  And if they get them and if the agent testifies they will try to use them to show bias.  Whether the Court allows any of this stuff in is very questionable."
Manafort's defense would have to prove prosecutorial misconduct in order to get any charges dismissed–which has a very high bar. For example, a federal judge dismissed the ethics case against former Senator Ted Stevens (R-Alaska) after finding egregious prosecutorial misconduct. Judge Emmet Sullivan said that he had "never seen mishandling and misconduct like what I have seen" by the DOJ in the Stevens case. However, in that case, prosecutors admitted that they failed to turn over key information to the defense (so-called "Brady" material). The Stevens case was a huge rights violation and flub-up by prosecutors, and so far the revelations about Strzok don't reach that same level.
"If the agent were to testify at trial, it might be used in cross-examination to show bias, but even then it's pretty thin," white collar defense attorney Elkan Abramowitz explained to Law&Crime. 
Trump has repeatedly said that the Russia probe is a political witch hunt. He even tweeted about it again this morning. While the revelations against the FBI agent are certainly troubling, more evidence of such bias is needed to prove in a court of law that the case is without merit. Regardless, the Manafort team (and perhaps others who ended up being charged) will likely try to use the agent's text messages to derail the prosecution.
[image via screengrab]
Have a tip we should know? [email protected]
Rachel Stockman - Editor in Chief / On Air Host