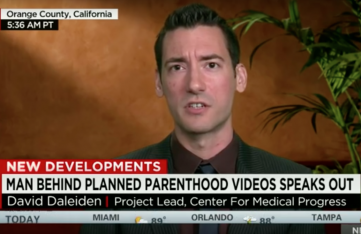 David Daleiden, a Pro-Life activist and founder of the Center for Medical Progress, claims his home was raided by agents from the California Department of Justice who seized all of his undercover video footage that allegedly shows Planned Parenthood personnel negotiating the sale of fetal body parts.
Daleiden made the claims in a Facebook post late on Tuesday in which he stated that he believed the raid was politically motivated because California Attorney General Kamala Harris has received campaign contributions from Planned Parenthood.  He also claims agents left behind materials that allegedly show StemExpress and Planned Parenthood violated federal and state laws related to the sale of fetal body parts.
In an e-mail to the Washington Post, Daleiden said the agents seized a laptop and multiple hard drives that contained videos and information that has not yet been released to the public.  The Washington Post also wrote that the raid apparently confirms that California authorities are conducting a criminal investigation into whether the Center for Medical Progress violated any laws in the making of the controversial videos they released last summer.
According to Fox News, Matt Heffron, a former federal prosecutor and a legal adviser to Daleiden, issued a statement that described the California raid as "outrageously out of proportion for the type of crime alleged" and "an oppressive abuse of government power."
A spokesman for the Center for Medical Progress verified that the Facebook was legitimate, but he declined to comment further.  A spokeswoman for the California Attorney General's Office also refused to comment, citing an ongoing investigation.
Daleiden and other employees of the Center for Medical Progress were indicted in Texas earlier this year on charges of tampering with government documents for allegedly using false identification cards in order to gain access to facilities and events when making the videos.
[image via screengrab]
Have a tip we should know? [email protected]