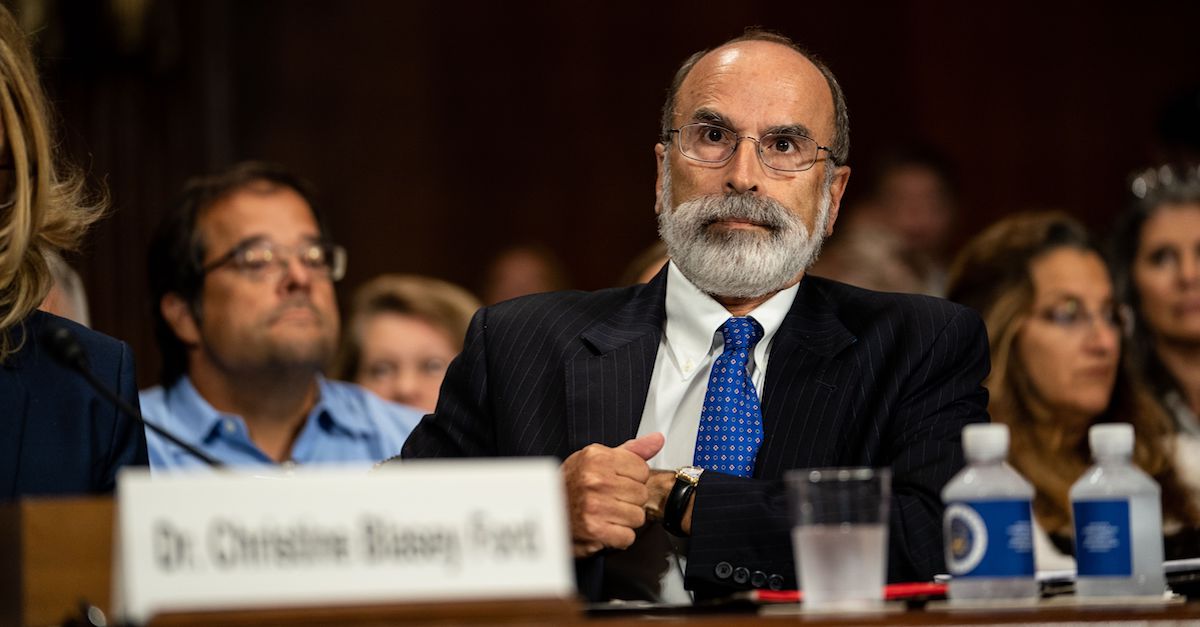 A lawyer who has represented fired FBI deputy director Andrew McCabe and Brett Kavanaugh accuser Dr. Christine Blasey Ford is criticizing Sen. Lindsey Graham (R-S.C.) for complaining about the way long-time Trump adviser Roger Stone was arrested by the FBI.
Michael R. Bromwich rubbished Graham's Wednesday letter to FBI director Christopher Wray, a letter that took issue with the "number of agents involved, the tactics employed, and the timing of the arrest" of Stone. Graham also said that he doesn't believe Stone should have been treated like a violent offender.
The letter echoed criticisms that arose in the immediate aftermath of the Stone arrest. Fox News personality Laura Ingraham, for example, said that Stone was being treated like alleged Mexican drug lord Joaquin "El Chapo" Guzman Loera. Stone himself said that he was treated worse than Osama bin Laden, who was shot in the head and tossed into the sea.
Here's where Bromwich comes in. He opined that Sen. Graham is a) being "disingenuous" and b) "showboating." Why? Because he could have asked Wray for a private briefing on the Stone arrest, but chose instead to side with a "crony" of President Donald Trump.
"This is pure disingenuous showboating. If @LindseyGrahamSC had legitimate concerns about the FBI's appropriate conduct in the Stone arrest, he could ask for a private briefing. No, the purpose was to show public solidarity with a POTUS crony," he said. "Audience of one."
As Law&Crime reported before, legal experts in a position to know how the FBI conducts its business said that the arrest was standard operating procedure. The exception to the standard was that CNN was on scene as it happened in the early morning. CNN claimed that "determined reporting and interpreting clues revealed in the course of events"  led them to wait and watch that Friday, while critics surmised that the FBI or someone from Special Counsel Robert Mueller's team leaked news of the arrest.
Graham's letter, it's worth noting, asks Wray to answer whether there was such a leak. One aspect of Graham's response appears to ignore the fact that Stone is accused of witness tampering (i.e. threatening a witness).
Andrew Bringuel, a now-retired FBI Agent Supervisor Instructor and Researcher at the FBI Academy's Behavioral Science Unit with more than 27 years of experience, told Law&Crime, "As far as the arrest itself, Stone has allegedly threatened bodily harm towards [Randy] Credico. Supposedly writing, 'I am so ready. Let's get it on. Prepare to die (expletive).'"
"That alone would be cause for the FBI to execute the warrant in the manner they did. It shows the seriousness of the charges. It is not unusual for these arrests to occur early in the morning in order to have a tactical advantage," he continued. "Watching the video it didn't appear to be a SWAT operation, but rather the squad working the investigation, which, considering the circumstances, isn't unusual."
Stone faces charges of obstruction of an official proceeding, five counts of making false statements, and a count of witness tampering.
[Image via Erin Schaff/AFP/Getty Images]
Have a tip we should know? [email protected]