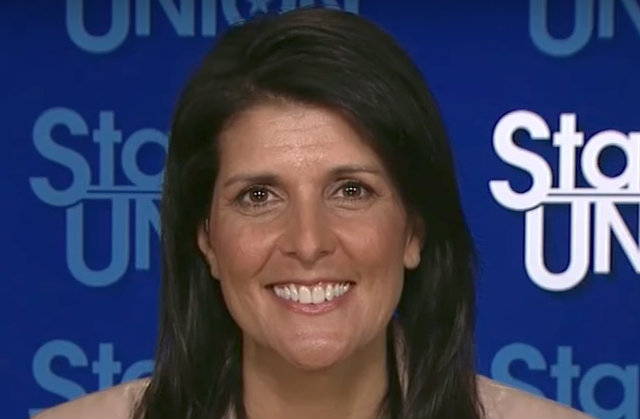 A nonprofit has made another claim against Trump administration officials. On Tuesday, the Citizens for Responsibility and Ethics in Washington (CREW) said they think United Nations Ambassador Nikki Haley might have broken the law by retweeting President Donald Trump. Now they want the Office of Special Counsel to investigate.
"By posting this tweet on an account that referred to her official position, Ambassador Haley likely engaged in political activity prohibited by the law," CREW said in an open letter to Acting Special Counsel Adam Miles.
This stems from Trump's support of a House candidate in South Carolina. Ralph Norman, a Republican, was running to replace Mick Mulvaney, who left to run the Office of Management and Budget. The Tweeter-in-Chief wrote this on June 19, the day before the special election:
Ralph Norman, who is running for Congress in SC's 5th District, will be a fantastic help to me in cutting taxes, and….

— Donald J. Trump (@realDonaldTrump) June 19, 2017
….getting great border security and healthcare. #VoteRalphNorman tomorrow!

— Donald J. Trump (@realDonaldTrump) June 19, 2017
That same day, Haley retweeted the first message on her Twitter account, CREW said. The problem was, she was using this account in an official veneer: Her profile header showed her standing with Trump and 14 other UN ambassadors in the White House; her profile picture was cropped version of her photo on the State Department's website; and her profile description reads "United States Ambassador to the United Nations." This remains true as of Tuesday afternoon.
But something's now missing: the retweet. CREW said that Haley appears to have removed it after two journalists, Andrew Beatty and Christina Wilkie, suggested that she could be violating the Hatch Act.
LawNewz.com has reached out to Haley for comment.
The Hatch Act prohibits executive branch employees from using their positions in political activity, though exceptions exist for the positions like the president and vice president.
CREW, a nonpartisan watchdog, certainly has a track record when it comes to making this kind of claim against Trump administration officials. They declared victory on June 9 after the Official of Special Counsel reprimanded Dan Scavino, the White House social media director, for a partisan message he made on Twitter. Legal experts, including former government lawyers, said he broke the Hatch Act because he was using his ostensibly personal account in a professional manner.
[Screengrab via CNN]
Have a tip we should know? [email protected]