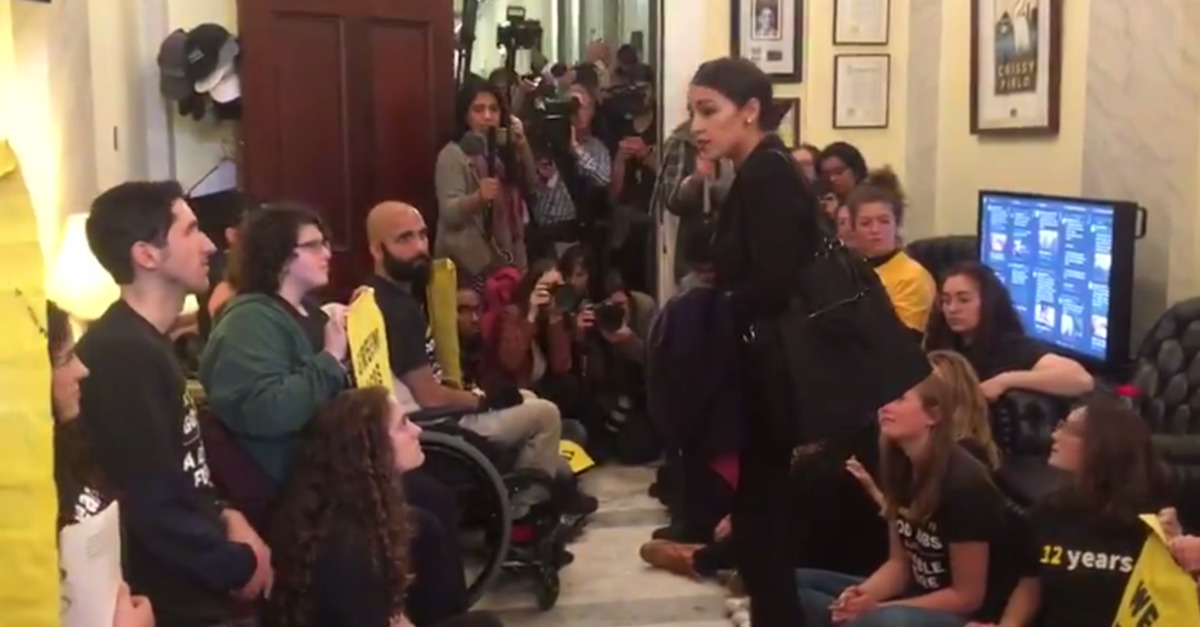 Representative-elect Alexandria Ocasio-Cortez joined a group of climate justice protesters in the office of once (and future?) Speaker of the House Nancy Pelosi on Tuesday morning.
The protest was organized by the Sunrise Movement, a youth-led organization dedicated to stopping human-caused climate change while creating green jobs in the process. Law&Crime has previously covered the Sunrise Movement here. Justice Democrats, the group which recruited Ocasio-Cortez into running for Congress, also took part in the "Green New Deal" protest against the Democratic Party leadership–which progressives and left-wing Democrats have long felt are a bit too cozy with corporate interests.
The group came bearing a petition outlining some of their demands. That petition reads, in part:
[A Green New Deal] means creating a committee tasked specifically to write policy on creating jobs and moving our country off fossil fuels over the designated 12 years that the [Intergovernmental Panel on Climate Change (IPCC)] has given us. Let's protect the lives of all working people—black, brown, and white—from the ravages of disaster and pollution.
As Ocasio-Cortez joined the protest, she was greeted by a chorus of cheers and applause from the 150 or so young activists gathered outside Pelosi's office doors. The incoming representative is believed to be the first elected Democratic Party member of Congress to have ever joined a protest outside their own party's leadership office, according to Justice Democrats communications director, Waleed Shahid.
The Democratic Socialist congresswoman-elect then took the microphone and addressed the issue at hand.
"I just want to let you all know how proud I am of each and every single one of you. For putting yourselves and your bodies and everything on the line to make sure we save our planet," Ocasio-Cortez said. "We do not have a choice. We have to get to 100 percent renewable energy in 10 years. There is no other option."
In comments to The Intercept, Ocasio-Cortez stressed those prior remarks and placed blame on her own party:
There are so many different progressive issues that are important and climate change and addressing renewable energy always gets to the bottom of the barrel. That can gets kicked from session to session and so what this just needs to do is create a momentum and an energy to make sure that that it becomes a priority for leadership.
Pelosi, for her part, gave the appearance of taking the protest in stride.
"We are inspired by the energy and activism of the many young activists and advocates leading the way on the climate crisis, which threatens the health, economic security and futures of all our communities," a press release from the incoming speaker's office claimed. "I have recommended to my House Democratic colleagues that we reinstate the select committee to address the climate crisis. House Democrats ran on and won on our bold campaign for a $1 trillion investment in our infrastructure that will make our communities more resilient to the climate crisis, while creating 16 million new good-paying jobs across the country."
Justice Democrats took an askance view of Pelosi's attempt to save face in front of a rising Democratic Party leader and the increasingly anxious and socialism-inclined Democratic Party base and activist wing.
Not good enough. Pelosi is reinstating a 2007 committee tasked with investigating the harms of climate change. We don't need more investigation. We need specific plans matching the urgency and scale mandated by the UN's IPCC report on catastrophic climate change. Democrats must propose bold and serious solutions on climate. Anything less is tantamount to denying the reality of climate catastrophe. Meanwhile, we're ushering in a new generation of leaders into the Democratic Party who understand the urgency and will fight for us.
[image via screengrab/Justice Democrats]
Follow Colin Kalmbacher on Twitter: @colinkalmbacher
Have a tip we should know? [email protected]