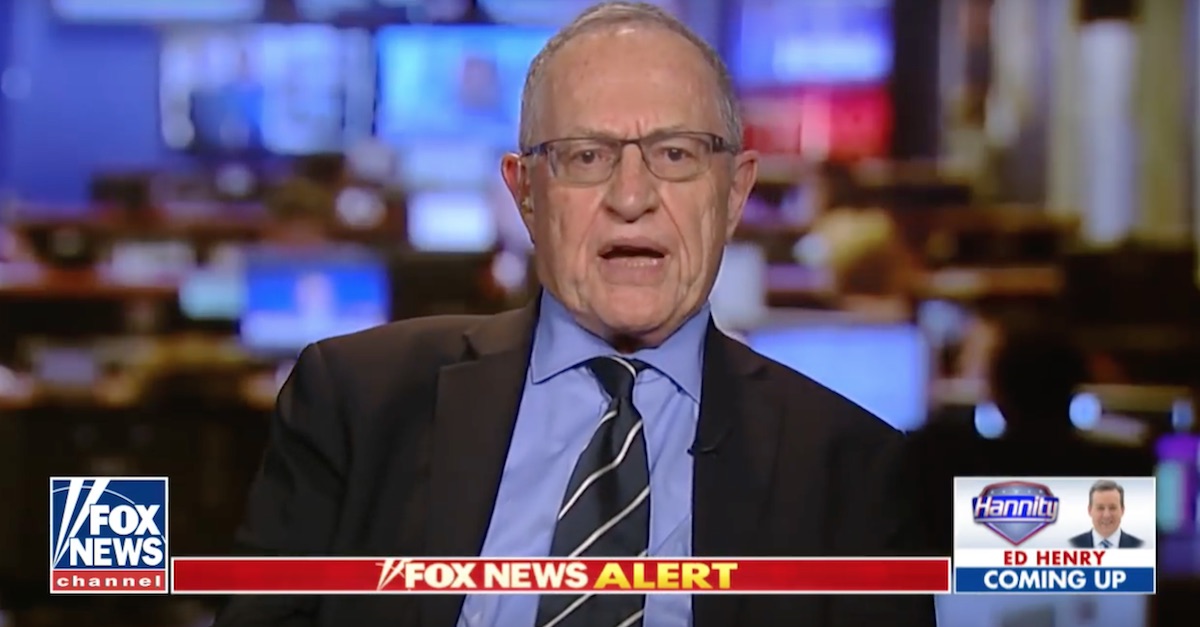 There was some buzz Tuesday evening when it was revealed that Harvard Law Professor Alan Dershowitz would be meeting President Donald Trump for dinner at the White House, and, as Maggie Haberman of the New York Times tweeted, this was because Trump sought the legal pundit's "input."
Input on what, you ask? Dershowitz, who told Sean Hannity the day before the White House dinner with Trump said "[l]ook, I don't give advice to the president except on television," said it was not about Robert Mueller investigation but the Middle East.
He also said that he did not give legal advice, that he is not Trump's lawyer and that he had "no kind of legal conversation with anybody in the White House."
Dershowitz answered Slate's questions last night about the purpose of the meeting, since it seemed to some, given his comments on the FBI's Monday afternoon Michael Cohen raid ( "[It's] a very dangerous day today for lawyer-client relations") and Trump's other recent lawyer issues, that he might be getting a job offer.
Dershowitz said that was not so. He said that he was at the White House "much of the day" on Tuesday because of a pre-scheduled meeting to discuss the Middle East.
"This is the third time I have met about the Middle East, and I hope to continue to have some input on the Middle East," he said. "This is the fourth president I have advised on the Middle East. And that's the reason I came to the White House."
Asked if he discussed the Mueller investigation or the Cohen raid with Trump, Dershowitz didn't really answer the question.
"All I'm prepared to say on that is that I did not give the president legal advice. I don't give anybody legal advice unless I am their lawyer. I am not his lawyer," he said. "I'm not in a lawyer-client relationship with him. I had no kind of legal conversation with anybody in the White House, or give legal advice to anybody in the White House, about the ongoing investigation."
The Slate reporter picked up on the non-answer and asked this question next: "Is there a distinction between giving someone legal advice and talking to them about their legal matters in a way they could find helpful?"
Dershowitz replied that he does this all the time on television, something he has also said before.
"Well, I talk to the president on television all the time. Apparently he listens. I get on television and I state what I think is going on. And anybody can listen, and I very purposely do it publicly so nobody mistakes it for legal advice," he said.
Except this time he didn't talk to the president on TV.
Dershowitz went on to say "I can't tell you what I talked about. I can just tell you I didn't give any legal advice."
Other nuggets from the Dershowitz interview: he does not know if Trump is considering firing Deputy Attorney General Rod Rosentein or Special Counsel Robert Mueller but said that would be a political mistake; if he were advising Trump, he said he'd tell him "don't fire, don't pardon, don't tweet, and don't testify"; he said Trump has "certainly […] never asked" him for legal advice; he said the ACLU would be "up in arms" if the offices of Hillary Clinton's lawyer was raided.
Have a tip we should know? [email protected]