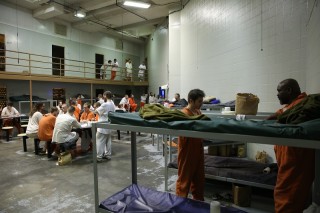 This past spring, Sheriff Jamey Noel sent seven civilians into the notorious Clark County Jail in Indiana, with the dual purposes of making law enforcement officials aware of issues in the correctional system, and to give the public a window into the life of an inmate. The participants were given fake names and backgrounds, and lived as convicted criminals as part of the first season of A&E's reality series '60 Days In.' The experimental project went so well, that the Sheriff and the network are doing it again, this time with eight men and women going undercover.
More than 100 cameras will document the new inmates' every move, as they live among approximately 500 people in the general jail population. Inmates at the Clark County Jail range from first-time offenders to career criminals, drug dealers to convicted murderers
The show was the number one new non-fiction series on cable this past spring. Of course, season 1 wasn't without its difficulties. "It's tougher than you think to sneak people into jail," Sheriff Noel told LawNewz.com after it aired on television. Challenges included making sure the participants were able to keep their stories straight, and keeping them safe without compromising the operation.
LawNewz.com founder Dan Abrams hosted last season's reunion special, where the participants discussed their experiences. This season, Abrams will host a segment previewing and analyzing each episode. The two-hour season premiere of '60 Days In' airs this Thursday night at 9/8c on A&E.
[Image via A&E]
Have a tip we should know? [email protected]