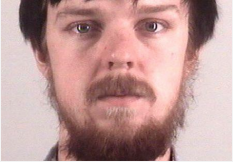 LawNewz's Founder Dan Abrams has labeled him "public enemy #1" and the "Dumbest Criminal in America." Now, the despised Texas teen , Ethan Couch, is set to face the stark reality of an adult jail.
The 18-year-old, who avoided serving any jail time despite killing four people in a tragic 2013 drunk-driving accident, was transferred to an adult jail on Friday. After a judge initially refused to transfer Couch, the son of two equally troubled parents was moved from a juvenile detention center to the Tarrant County Lon Evans Correction Center, much to the satisfaction of prosecutors and the local sheriff who led the charge to have the teenager transferred.
Couch was arrested in January after he and his mother, Tonya Couch, fled the U.S. to Mexico with their family dog. The "affluenza" teen was captured in Mexico and deported to the U.S. after prosecutors claimed Couch had violated his probation in the 2013 drunken-driving case.
Couch and his attorneys, Scott Brown and Reagan Wynn, are scheduled for a February 19 hearing to determine whether his case will be determined in the juvenile or adult system.
[h/t ABC News]
Have a tip we should know? [email protected]