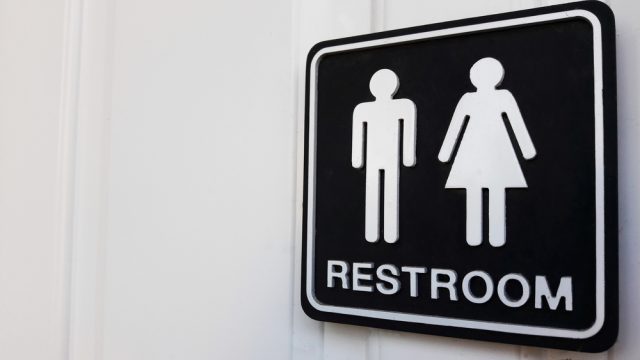 On Thursday, the North Carolina General Assembly passed a new bill that, if signed, will repeal HB2, the state's controversial "bathroom bill," which said that restrooms in public buildings were only designated according to people's sex at birth. However, the new measure has drawn criticism for leaving discriminatory practices in place.
Since HB2 first became law last year, people have been fighting against it, including entertainers and companies refusing to do business in the state. They've reportedly cost the state millions. Now that it's almost gone (Governor Roy Cooper still needs to sign the new bill), the ACLU and Lambda Legal are calling out state lawmakers for keeping "the most harmful parts of the law," according to an ACLU press release.
The new bill repeals the old one, but keeps bathroom regulation in the hands of the state legislature. It also says that until December 1, 2020, "No local government … may enact or amend an ordinance regulating private employment practices or regulating public accommodations." This is likely meant to prevent local ordinances like the one the Charlotte City Council passed that allowed transgender people to use the facilities that corresponded to their gender identities. In addition to bathroom policies, the new bill also prevents local bodies from extending employment protections to transgender people or others not already covered by federal regulation for the next three years.
The North Carolina ACLU sent a letter to Gov. Cooper asking him not to sign the bill, although he has said he supports the deal. "It's not a perfect deal," Cooper said, according to CNN, but it repeals House Bill 2 and begins to repair our reputation."
"This fake repeal is an attempt to silence LGBT people," said Simone Bell, Lambda Legal's southern regional director. "We demand a full, clean repeal, and that includes comprehensive non-discrimination protections."
[Image via StorKiss/Shutterstock]
Have a tip we should know? [email protected]