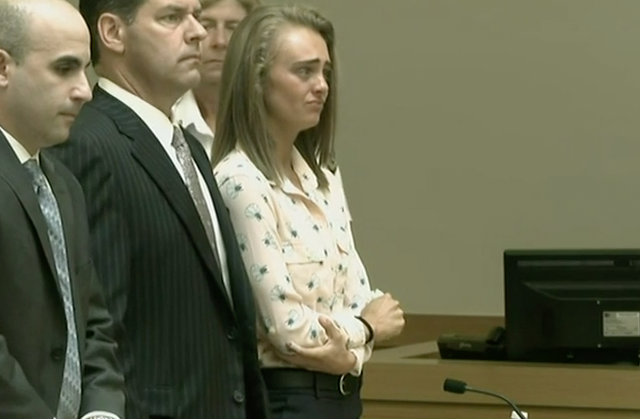 Michelle Carter, the woman who successfully told her boyfriend to kill himself, is getting support after her Friday conviction for involuntary manslaughter. The ACLU of Massachusetts said the guilty verdict violates the First Amendment.
From legal director Matthew Segal:
Mr. Roy's death is a terrible tragedy, but it is not a reason to stretch the boundaries of our criminal laws or abandon the protections of our constitution.

There is no law in Massachusetts making it a crime to encourage someone, or even to persuade someone, to commit suicide. Yet Ms. Carter has now been convicted of manslaughter, based on the prosecution's theory that, as a 17-year-old girl, she literally killed Mr. Roy with her words. This conviction exceeds the limits of our criminal laws and violates free speech protections guaranteed by the Massachusetts and U.S. Constitutions.
Segal said this conviction stepped outside of the limits of local laws, and violates free speech as laid out in the U.S. and Massachusetts constitutions. He argued this could chill valid end-of-life discussions.
A Massachusetts court found Carter guilty in the death of boyfriend Conrad Roy, 18. He died from carbon monoxide poisoning in his pickup truck on July 13, 2014. Prosecutors proved that the defendant was on guilty for encouraging the victim via text to kill himself. Her defense tried to show that she too suffered from suicidal ideation after taking antidepressants. Carter, 17 at the time, believed she was helping him, argued attorney Joseph Cataldo.
Nonetheless, Judge Lawrence Moniz pinned the blame on her. He pointed out that Roy had stepped out of the truck, and told Carter he couldn't go through with it. She texted him again, encouraging him to follow through. He did.
This conviction does have its supporters in the local legal world.
"The defendant's fate was sealed through the use of her own words," said Martin W. Healy, Chief Legal Counsel for the Massachusetts Bar Association. "The communications illustrated a deeply troubled defendant whose actions rose to the level of wanton and reckless disregard for the life of the victim.
Healy said the case shows that "seemingly remote and distant communications will not insulate" perpetrators from culpability.
[Image via screengrab]
Have a tip we should know? [email protected]