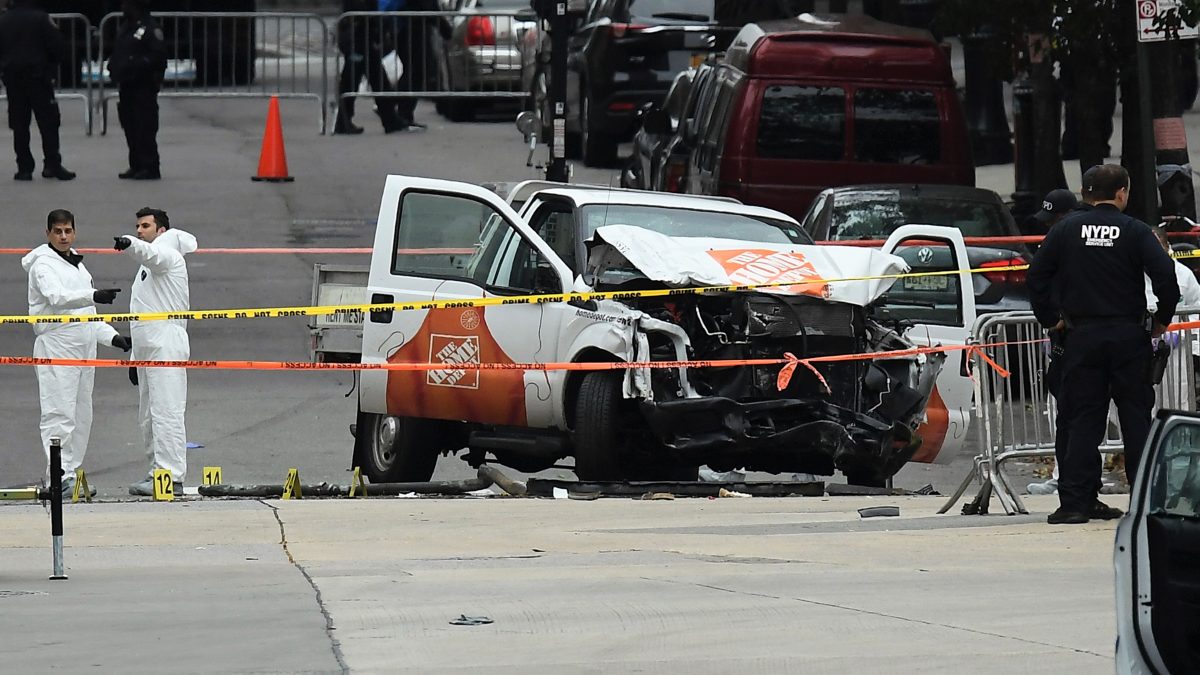 The man accused of crashing a rented Home Depot truck into a crowd of pedestrians and bicyclists near the World Trade Center in New York City last November is using a series of tweets from President Donald Trump in an attempt to convince a judge to take the death sentence off the table.
Sayfullo Habibullaevic Saipov killed eight people in the 2017 attack, authorities have said. New York Gov. Andrew Cuomo said the suspect was "radicalized domestically." New York Police Department Deputy Commissioner John Miller said Saipov committed the attacks "in the name of ISIS." What President Trump said, however, is what really riled up Saipov's defense attorneys.
"NYC terrorist was happy as he asked to hang ISIS flag in his hospital room. He killed 8 people, badly injured 12. SHOULD GET DEATH PENALTY!" Trump tweeted on November 1, 2017, at 10:43 p.m.
"There is also something appropriate about keeping him in the home of the horrible crime he committed. Should move fast. DEATH PENALTY!' Trump added on November 2, 2017, at 6:54 a.m.
Other Trump tweets referred to Saipov as a "degenerate animal" and attacked the State Department's Diversity Visa Lottery Program based on his case.
Those tweets were enough to result in a motion to prevent federal prosecutors from seeking a death penalty against Saipov, a new court motion in the Southern District of New York indicates. Bolstering that argument is a September 3, 2018 tweet from Trump regarding a move by the Justice Department led by Attorney General Jeff Sessions:
"Two long running, Obama era, investigations of two very popular Republican Congressmen were brought to a well publicized charge, just ahead of the Mid-Terms, by the Jeff Sessions Justice Department. Two easy wins now in doubt because there is not enough time. Good job Jeff . . . " the President tweeted on September 3, 2018, at 1:25 p.m.
President Trump believes DOJ "charging decisions should be governed by nakedly political considerations," Saipov's defense argued:
Previously, the President has repeatedly demanded that Mr. Saipov be killed by the government. The combined impact of the President's statements make it impossible for Attorney General Sessions — who works for Mr. Trump — to discharge his statutory and constitutional obligation to exercise independent discretion in determining whether a capital prosecution is warranted.
Thrown into the defense motion for good measure are a few additional points. One is that Rudy Giuliani, Trump's lawyer, "confirmed that he and Trump have discussed Sessions' possible removal." Another is that "Trump has repeatedly decried the Attorney General's purported lack of interest in charging Hillary Clinton with a crime." These back up the general thesis that Trump is angry with Sessions and the DOJ for failing to "fully utilize their power in pursuit of President Trump's political agenda."
The defense further argued that the pressure to govern charging decisions by "raw political considerations," rather than federal law and procedure, is so great that federal prosecutors will buckle, rather than withstand the heat:
The pressure from Mr. Trump's intemperate demands are simply too great for Attorney General Sessions or anyone else who works for President Trump to appropriately exercise the fact-based, independent decision-making process required by [this section of federal law]. A decision not to seek death would expose the decision-maker to a blaze of public scorn and ridicule as well as the possible loss of employment. That taint on the charging process cannot be tolerated.
The Saipov defense is demanding that the judge overseeing his proceeding either (1) take the death penalty off the table, or (2) appoint an independent prosecutor who will protect the defendant's constitutional and statutory right to a fair and non-arbitrary decision."
"Attorney General Sessions cannot fulfill his statutory and constitutional duty to make an
independent and non-arbitrary decision as to whether Mr. Saipov should be subject to the death penalty," they argued. "The remedy is to preclude the government from seeking a death sentence or, in the alternative to appoint an independent prosecutor to make the decision."
[Images via Mugshot Handout, Getty Images]
Have a tip we should know? [email protected]
Aaron Keller - Deputy Editor-in-Chief