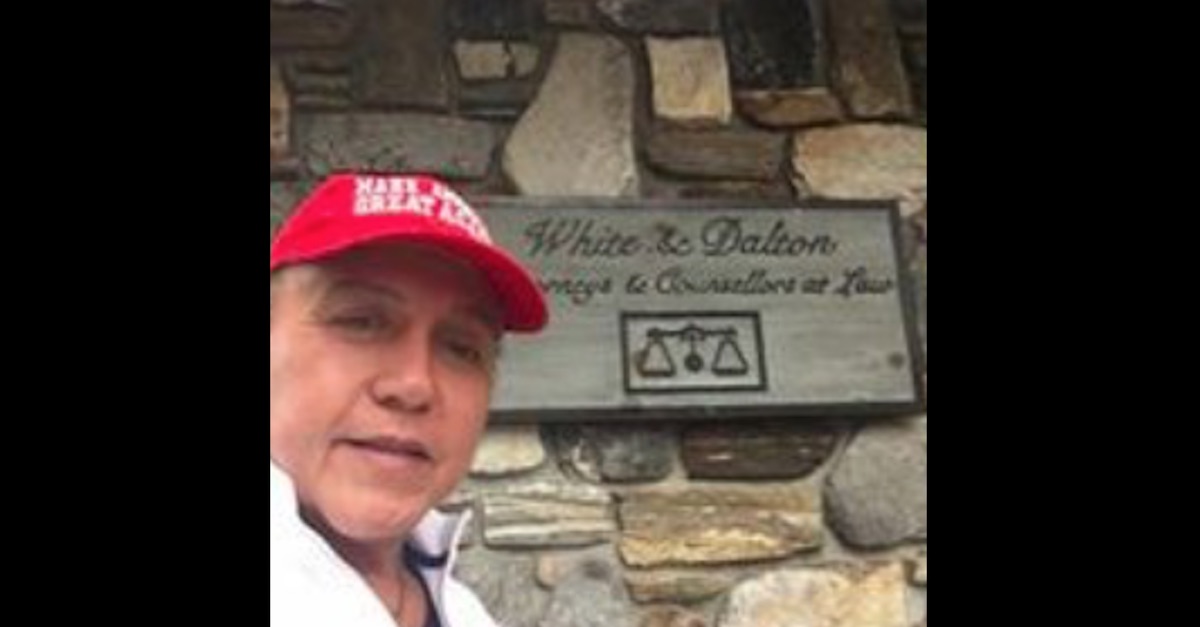 On the heels of a March 21 guilty plea in the Southern District of New York, so-called MAGABomber Cesar Altieri Sayoc wrote a somewhat lengthy letter to the judge that calls into question said plea. The Florida man wrote to Judge Jed S. Rakoff to say that he was just following his attorney's advice when he admitted that he knew the devices he mailed would hurt people and didn't really mean it.
Judge Rakoff not only acknowledged on Tuesday that he received the letter, he also gave the the defendant and the government up to one week to send letters of their on "whether they believe it is necessary for further action to be taken at this time." The judge also included a copy of Sayoc's letter, which you can read below.
Sayoc went back to what happened at the plea hearing, when he said the judge asked, "Do you knowingly know the devices would hurt or harm anyone?"
"Your honor, my instructed me to say yes, but in my heart I wanted to say no," he claimed. "I didn't have a full understanding of what to say."
"I answered under extreme emotional circumstances and not sound comprehending circumstances," he continued. "I realized it was the wrong thing to say because under no circumstances my intent was to hurt or harm anyone. The intention was to only intimidate & scare."
Sayoc further claimed that the devices were "not ever meant to work" or harm anyone. In closing, he expressed "remorse."
Sayoc pleaded guilty on Thursday to sending bombs to perceived enemies of President Donald Trump.
Targets included former Democratic presidential candidate Hillary Clinton, actor Robert de Niro, billionaire philanthropist George Soros, and former President Barack Obama, prosecutors say. The defendant's social media activity showed he was a huge Trump fan. He seemed to subscribe to conspiracy theories that teenage gun control advocate David Hogg was a "paid protester." He also endorsed anti-Semitic conspiracy theories about Soros.
Most targets were Democratic politicians, but all were perceived to be Trump critics. Only some, like de Niro, made their criticisms in colorful terms, but all were known, one way or another, to be opponents of the president's policies. Trump has consistently called CNN's coverage–often coverage he doesn't like–"fake news." Sayoc was clearly responsive to those comments, as his van displayed a "CNN sucks" sticker.
Other recipients of packages included: former President Bill Clinton, former CIA Director John Brennan, CNN, former Attorney General Eric Holder, Rep. Maxine Waters, former Vice President Joe Biden, Sen. Cory Booker, Debbie Wasserman Schultz, and former Director of National Intelligence James Clapper. There were also reports of suspicious packages sent to billionaire Tom Steyer and Sen. Kamala Harris.
Sayoc, a registered Republican and bodybuilder, was known in Florida for driving a white van covered in pro-Trump stickers. Those who knew him said he held violent, reactionary views. The supervisor of a pizza restaurant Sayoc used to work at told the Washington Post that Sayoc voiced genocidal attitudes toward black, Jewish, and gay people.
In his letter, Sayoc notably referred to the devices he admitted to mailing as "hoax" and "decoy devices."
That's not what FBI Director Christopher Wray said when he announced Sayoc's arrest. In fact, he specifically said "these are not hoax devices."
"We can confirm that 13 IED's were sent to various individuals across the country. Each device consisted of roughly of six inches of PVC pipe, a small clock, battery, and energetic material, potential explosives and material that give off heat and energy through a reaction to heat, shock, or friction," Wray said. "Though we are still analyzing the devices in our laboratory, these are not hoax devices."
Cesar Sayoc writes a letter to the judge by Law&Crime on Scribd
Alberto Luperon contributed to this report.
[Image via Twitter screengrab]
Have a tip we should know? [email protected]