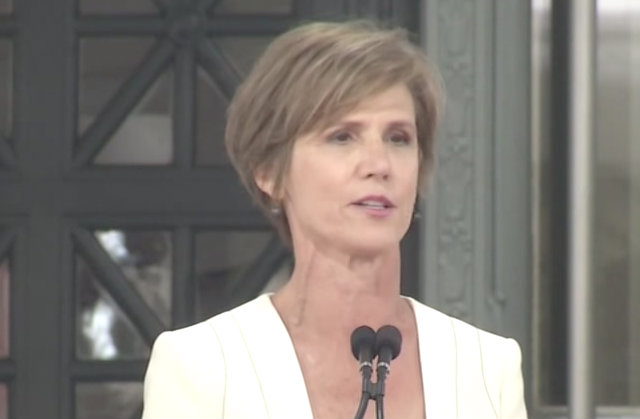 Former Acting Attorney General Sally Yates took President Donald Trump to task Friday for what she sees as a systematic undermining of the Justice Department.
"If we are not careful, when we wake up from the Trump presidency, our justice system may be broken beyond recognition," she wrote in an op-ed published in The New York Times.
Yates wasn't a fan of the president's policies and the feeling was mutual. A holdover from the Obama administration, she was fired in January after just 10 days on the job when she refused to let her attorneys defend arguments in favor of the controversial travel ban executive order. Developments since then haven't changed her mind about Trump.
In the op-ed, she criticized his firing of FBI Director James Comey, who claimed he rebuffed the president's request to drop an investigation into National Security Adviser Michael Flynn.
She also criticized what she called the "humiliation" of current AG Jeff Sessions, who Trump has taken to the woodshed on Twitter and in an NYT interview. Yates wrote that it was inappropriate for him to criticize the Attorney General's recusal into the Russia investigation.
"At its core, the President's complaint is that he doesn't have a political ally at the Justice Department to protect him from the Russia investigation," she wrote. "And he is apparently trying to bully Mr. Sessions into resigning so that he can put someone in place who will."
She also voiced concern about Trump chewing out of Sessions for not investigating former Democratic presidential candidate Hillary Clinton.
"It's almost impossible to take all of this in," Yates said. "And while we risk becoming numb to the daily barrage of alarming news, we can't lose sight of the fact that this is beyond abnormal. It's dangerous."
She argued that such actions seem designed to violate the DoJ's independence, so Trump can use it to get back at his enemies and to protect himself and his friends.
Special Counsel Robert Mueller and several congressional committees are investigating the Trump campaign's alleged collusion with cyberhacking and interference efforts by the Russian government in the 2016 election. The president has called these claims a "witch hunt" by Democrats. He has also attacked Comey and Sessions for incompetency.
[Screengrab via Harvard Law School]
Have a tip we should know? [email protected]