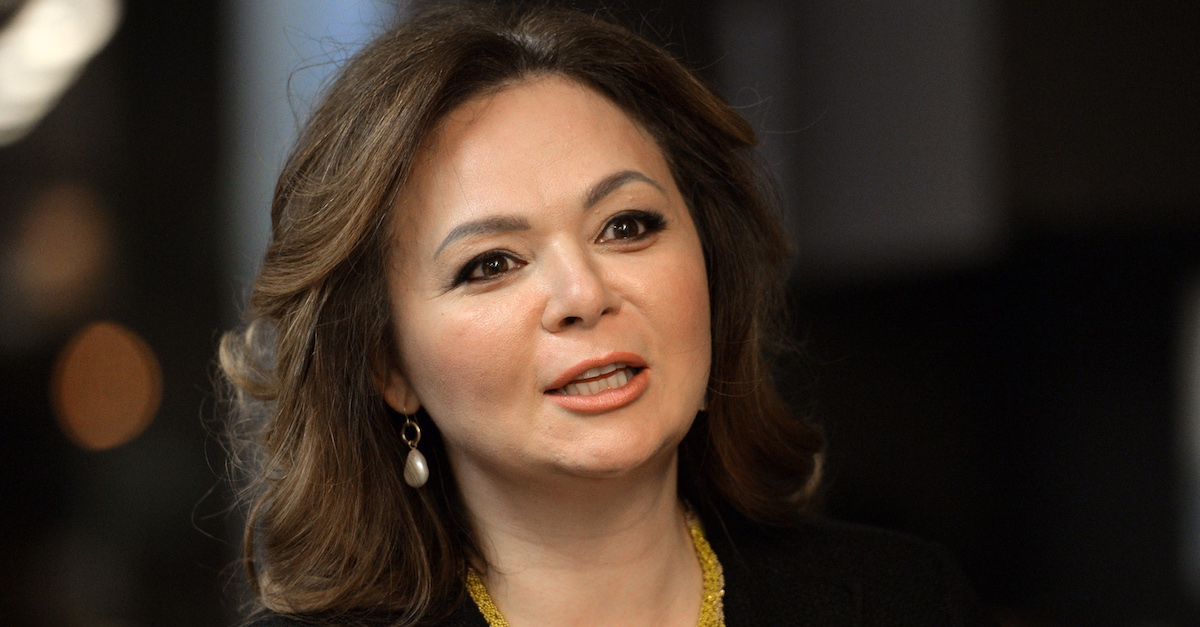 The Russian lawyer at the center of the Trump Tower 2016 meeting that has been a focal point of Special Counsel Robert Mueller's investigation into Russian election interference has been charged in an unrelated case in the Southern District of New York (SDNY).
Natalya Veselnitskaya, the lawyer who met with Donald Trump Jr., Jared Kushner, Paul Manafort, and others, with promises of "dirt" on Hillary Clinton and an interest in discussing the Magnitsky Act, has been charged with obstruction of justice. What does it all mean? Let's run down the list of key takeaways.
1) Once again, the SDNY plays a major part.
We've already seen Mueller refer the Michael Cohen bank fraud, tax fraud, and campaign finance violations case to the SDNY with success. In April, the FBI raided Cohen's home, office, and hotel room. By August, Cohen was pleading guilty to committing campaign finance violations that he said his former boss Donald Trump directed. Even though Mueller wasn't involved here, he still squeezed a guilty plea out of Cohen for his own purposes. Cohen admitted that he lied to congressional investigators about how long negotiations for a possible Moscow Trump Tower went on.
The key point here is that SDNY can share with Mueller information that it learns as the Veselnitskaya investigation unfolds; information that may lead to additional charges in the main Russia inquiry.
2) Veselnitskaya's ties to Russian officials run deep.
Trump-appointed U.S. Attorney Geoffrey Berman said Tuesday that Veselnitskaya "fabricated evidence" while she represented Prevezon Alexander, a Russian company suspected of money laundering.
Berman said that his office was investigating Prevezon Alexander for allegedly "receiv[ing] and launder[ing] a portion of the proceeds of a Russian tax refund fraud scheme involving corrupt Russian officials that was uncovered by Sergei Magnitsky, a Russian legal adviser who had participated in reporting the fraud to Russian authorities but was then arrested in a retaliatory proceeding."
If the name Magnitsky sounds familiar, it's because it is. We'll get to that in a moment.
Veselnitskaya is accused of submitting to the U.S. District Court for the Southern District of New York "an intentionally misleading declaration in opposition to a Government motion":
Veselnitskaya's declaration presented supposed investigative findings by the Russian government – findings purportedly exonerating Veselnitskaya's clients – under the false pretense that these findings had been independently drafted by the Russian government. As alleged, however, Veselnitskaya concealed from the Court that she, as a member of the defense team in the Prevezon action, had participated in drafting those supposed exculpatory investigative findings in secret cooperation with a senior Russian prosecutor.
In other words, she's accused of "fabricating [exculpatory] evidence" in cahoots with a top Russian prosecutor to obstruct justice in a U.S. federal court.
3) The Magnitsky Act returns, and so does Fusion GPS.
The Magnitsky Act, which was one of the agenda items at the 2016 Trump Tower meeting, has come up once again. Why? Because Prevezon Alexander is accused of laundering money to hide the corruption of Russian officials.
You may recall that Russian Deputy Attorney General Saak Albertovich Karapetyan died in a helicopter crash "during an unauthorized flight" in October. This was a notable death not just because of the way that it happened, but because Karapetyan was believed to have been directing Veselnitskaya.
Karapetyan was described as "intimately familiar" with operations Russian president Vladimir Putin has authorized, and as being instrumental for over a decade in "foiling" international investigations into Russia's conduct. The crash happened as Putin dismissed the idea that Russia targeted "scumbag" ex-double agent Sergei Skripal. Skripal, a former GRU officer, and his daughter were notably poisoned by a military grade nerve agent.
Karapetyan reportedly stopped the U.S. from investigating the Prevezon case connected to Sergei Magnitsky, the name behind the Magnitsky Act of 2012 — a piece of U.S. legislation reviled by Putin.
Magnitsky had found out about some $230 million-plus in fraud connected to the Kremlin and, according to independent investigators, was in state custody when he was deliberately inflicted with "severe pain and suffering, and ultimately his death [in 2009]." President Barack Obama signed the Magnitsky Act into law in December 2012 as a sanction.
Putin's response was to bar U.S. parents from adopting Russian children. Veselnitskaya tried to lobby the Trump Campaign to overturn the Magnistky Act, allegedly at the deceased Karapetyan's direction.
It was reported before that the information Veselnitskaya "brought with her" when she met Donald Trump Jr. at Trump Tower "stemmed from research conducted by Fusion GPS, the same firm that compiled the infamous Trump dossier." Per CNN's Michael Weiss:
As part of her legal counsel for Prevezon, Veselnitskaya helped retain the services of Fusion GPS, the Washington private intelligence firm, to conduct research aimed at strengthening Prevezon's defense, a rather awkward business arrangement, in light of the ongoing controversy over the Fusion-retailed Trump "dossier," as I noted last week in this space. Veselnitskaya has been particularly outspoken about the primary campaigner for the Magnitsky Act, the dead lawyer's former client William Browder, the CEO of Hermitage Capital Management, a hedge fund whose properties were allegedly stolen and used in perpetrating the 2007 tax fraud.
4) FinCEN employee currently under investigation by SDNY was concerned about Prevezon Alexander's suspicious activity.
Natalie Mayflower Sours Edwards, the senior adviser at the Financial Crimes Enforcement Network (FinCEN) who was arrested and charged for the unauthorized leak of confidential bank records to a BuzzFeed journalist, recently made news when it was reported that she tried to go to multiple relevant authorities, including Congress, with concerns about Suspicious Activity Reports (SARs).
Edwards was accused of disclosing SARs related to former Trump campaign chairman Paul Manafort and former Manafort associate Rick Gates to a BuzzFeed reporter, starting in Oct. 2017. The laws on SARs and what employees may and may not do with them is abundantly clear. The SARs were related to the Russian Embassy, accused Russian spy Maria Butina, "highly sensitive material" regarding Russia, Iran, and ISIS and, yes, the company Prevezon Alexander. These were allegedly found on a flash drive.
Edwards is said to have raised her concerns about Russian efforts to access confidential bank records of Hillary Clinton supporters in the summer of 2016, months before the election.
Edwards reportedly spoke with "six different congressional committee staffers to air her concerns." Then, in July and August 2018, she purportedly met with "staffers of one of the Senate committees investigating Russian interference during the presidential campaign." It was then that she claimed that FinCEN "withheld documents revealing suspicious financial transactions of Trump associates that the committee had requested." Edwards and an unnamed colleague reportedly had "lawful documented evidential disclosures of violations of law, rule, and regulations, gross mismanagement, gross waste of funds, abuse of authority, and substantial and specific danger to public safety."
5) Keep an eye on the Paul Whelan "hostage" situation.
The recent arrest of retired Marine Paul Whelan on spying charges has already been seen as a "retaliatory" move orchestrated by Putin as payback or leverage for the aforementioned Maria Butina.
You may recall that Bill Browder, the financier behind the Magnitsky Act, was accused by Russia of ordering the poisoning and murder of Sergei Magnitsky. Magnitsky was Browder's tax adviser.
Browder memorably said that this accusation was "Putin's 'fever dream' response to being caught poisoning the Skripals is accusing me of four murders, including poisoning of Sergei Magnitsky."
Browder has remained a steadfast Putin critic and recently commented on Whelan's arrest:
In my opinion, based on what I know, this is a hostage situation. Paul Whelan I believe was taken as a leverage for Vladimir Putin in response to the Maria Butina prosecution in Washington. And Vladimir Putin very much doesn't want her to talk to U.S. authorities. And he was in a very weak position and he needed to change that negotiating position, and so he looked for a hostage. And I believe that the Paul Whelan arrest fits right into that pattern of behavior.
Indeed, the timing of the Whelan arrest was called into question.
As Law&Crime reported before, Whelan's Dec. 28 arrest occurred eight days after Russian President Vladmir Putin commented on the U.S. arrest of Maria Butina, who recently pleaded guilty to conspiracy to act as a foreign agent.
Putin claimed that Butina was "forced" to admit her guilt and he distanced the Russian government from her, while also claiming he doesn't abide by the Code of Hammurabi.
"As for the fate of Russian nationals, we do care about them, including the fact that Butina is being forced to admit something over there. I cannot understand what she could possibly have admitted, since she was not following any instructions from the Russian Government or its agencies," he said. "This is a very sensitive area, and we will not act according to the laws of the Code of Hammurabi here. The law of retaliation states, 'An eye for an eye or a tooth for a tooth.' We need to act very cautiously here, and we need to be real."
Though Putin denied Russia would act out with an "eye for an eye" mentality, it will be interesting to see if the Veselnitskaya charges escalate an already precarious situation. Whelan faces 10 to 20 years in prison. Veselnitskaya has officially been charged with one count of obstruction of justice, which is punishable by a maximum of 10 years in prison.
SDNY indictment of Natalya … by on Scribd
[Image via Yury Martyanov/AFP/Getty Images]
Have a tip we should know? [email protected]