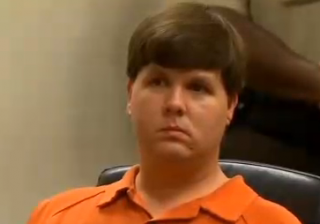 The murder trial of Justin Ross Harris begins today. Harris is accused of intentionally killing his 22-month old son Cooper by leaving him in a hot car. The case is being heard in Brunswick, Georgia, because jury selection in local Cobb County failed when too many people had prior opinions on the matter.
—> WATCH LIVE COVERAGE ON LAWNEWZ FACEBOOK STARTING MONDAY
For those who aren't quite so familiar with the case, or those who want a refresher before Monday's opening statements, here are some key points in the case.
1. Harris was supposed to bring Cooper to day care and didn't.
The day of Cooper's death, father and son had breakfast together at Chick-fil-A, before Harris was supposed to drop the child off at day care. Instead of turning towards the day care, however, Harris just went to work at the Home Depot corporate headquarters, leaving his son in the car. His then-wife, Leanna, went to pick Cooper up at day care later that day, only to be told he never showed up. Her immediate response, according to prosecutors, which has drawn suspicion, was that her husband left him in the car.
2. Sexual texts with multiple women.
Prosecutors have been looking to portray Harris as a man who was looking to get away from the responsibilities of family life. He was having trouble with his marriage, and was allegedly engaging in sexual conversations with six different women via text message, even the day his son died. Allegedly, at least one — and perhaps as many as three — of the women were underage, which has led to Harris being indicted on multiple counts of dissemination of harmful material to minors, and one count of criminal attempt to commit a felony for attempted sexual exploitation of children.
3. Troubling online history.
Troubling is putting it mildly. During the investigation of the case, police learned that Harris had, either by using a search engine or looking at message boards, viewed material related to hot car death, a video about animals dying in hot cars, living child free, the age of consent in Georgia, and how to survive in prison. This history has led to the theory that Harris was planning this for a while, and was looking to kill his son and leave his wife.
4. He went back to the car mid-day
During the day, Harris went back to his car to drop something off. Yet somehow, he claims he didn't notice his son in the backseat. In one of the more grim details of the case, experts have said that by the time this happened, Cooper was probably already dead, and Harris would have noticed the smell when he opened the door.
5. Harris claims it was an accident.
Despite all of the evidence against him, Harris maintains that this was not an intentional killing, just an awful, tragic accident.  He claims that the possibility of his son dying in a hot car was a fear that he and his wife had, which is why he had researched it. Despite all of the evidence that may lead jurors to think otherwise, it is still difficult to prove what someone was thinking.
LawNewz will be covering the case gavel to gavel, with live streaming video of the trial and live video analysis of the case on our Facebook page. It all starts Monday morning at 8:30am ET.
Have a tip we should know? [email protected]