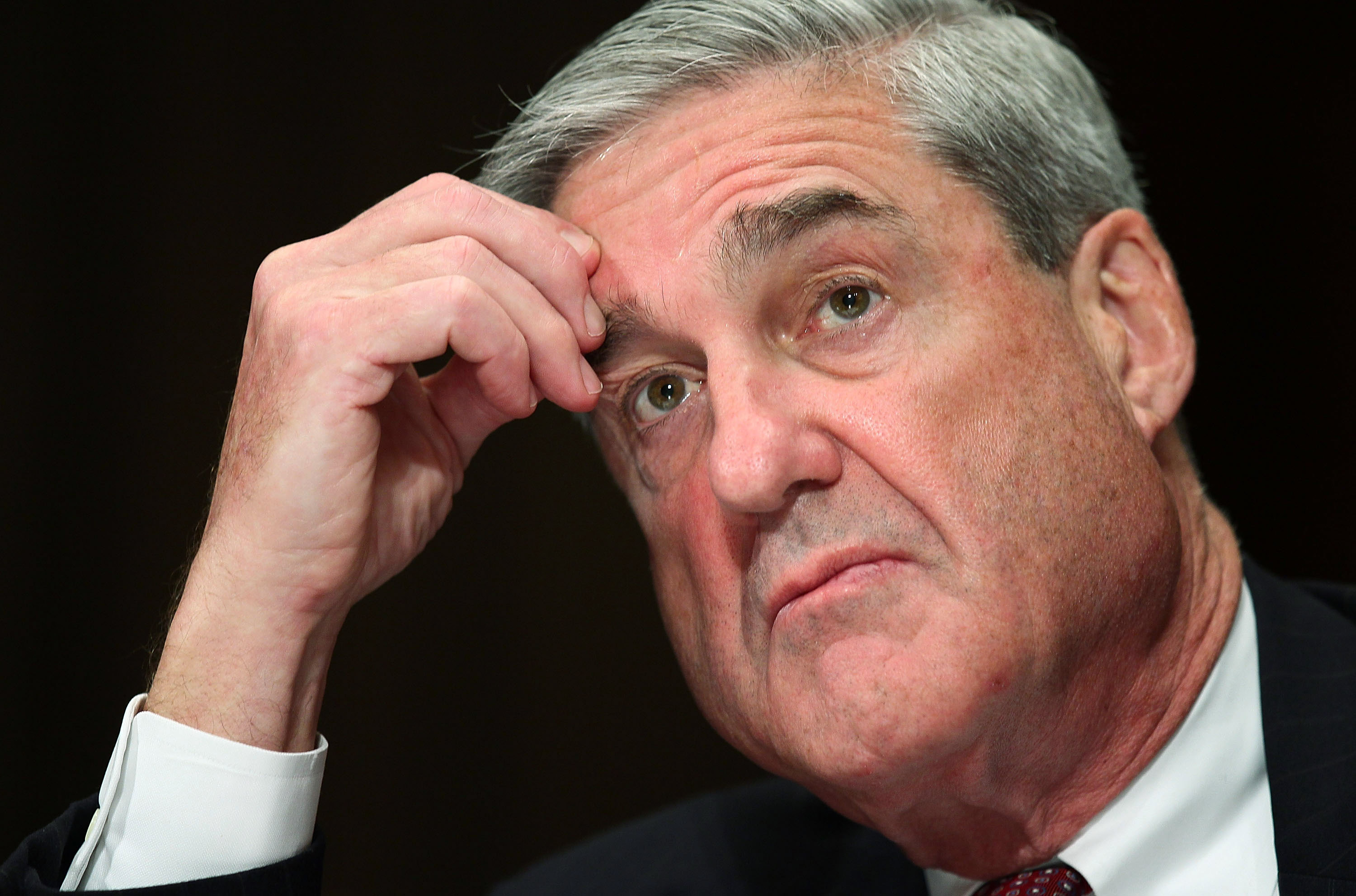 Most Americans will struggle to read through the prosecutorial legalese contained in special counsel Robert Mueller's latest indictment over alleged Russian electoral interference during the 2016 general election. Naturally.
Legal documents are typically long, poorly-written on accident, and inscrutably-written on purpose. Therefore, it makes sense to rely on mainstream media accounts attempting to hone in on the 37-page indictment's major points. Law&Crime's capsule summary of the indictment is available here.
After combing through the entire indictment and initial press reports, however, multiple Soviet-colored flags were raised and it soon became clear that typically abysmal analysis, poor understanding, and intentional obfuscation was apparently the order of the day. Here are five additional details you might have missed–or been misled about:
1. The Russian Troll Farm Went To Work For The Hashtag #Resistance
Yep. The Russian troll farm was never fully aligned with Trump and immediately went to work trying to discredit him. This narrative-busting fact dispenses with the popular human concept known as "foundational mythology." Therefore, it's the least likely to be absorbed by the tribally smoothed-over brains of American partisans looking for any and every excuse to reinforce their favored prejudices and storylines. But since this is a legally-oriented publication helmed and penned by lawyers, readers will please excuse our attention to black-and-white details.
Page 23 of the indictment reads, in part:
57. … At the same time, Defendants and their co-conspirators, through another ORGANIZATION-controlled group, organized a rally in New York called "Trump is NOT my President" held on or about November 12, 2016. Similarly, Defendants and their co-conspirators organized a rally entitled "Charlotte Against Trump" in Charlotte, North Carolina, held on or about November 19, 2016.
This segment of the indictment is included in a long section about Russian troll farm efforts aimed at "Staging U.S. Political Rallies in the United States," and is immediately preceded by details of multiple efforts in favor of Donald Trump (and at least one pro-Hillary Clinton effort). The inclusion of the Russians' anti-Trump efforts is buried at the tail-end of this section, but that's probably because of the timeline-like nature of the indictment.
In any event, the above-mentioned rally in New York was glowingly reviewed by the New York Times thusly:
They were transgender people, the children of immigrants, and parents toting infants on their back. They were families, students, and men and women of all ages and races. Many carried cardboard signs — "Show the world what the popular vote looks like," read one, "Putin Won," said another. As throngs marched through city streets, the participants joined in a cry of "Not my president!
2. The Russian Government Catches A Very Large Break
As noted in a Law&Crime story from Saturday morning, the Russian government seems particularly and officially nonplussed by the latest Mueller indictment. Russian Federation Foreign Minister Sergey Lavrov dismissed the indictment as "just blabber," during a security conference in Munich, Germany this morning. He said, "You can publish anything, and we see those indictments multiplying, the statements multiplying. Until we see the facts, everything else is just blabber — I'm sorry for this expression."
Lavrov has previously criticized U.S. efforts to cast 2016 election-focused trolling by Russian nationals as the work of the Russian government. On Friday, he noted:
There's much talk about state interference in the electoral process but I haven't seen a single fact to date.
So far, it appears Lavrov's Saturday morning calm was entirely justified–and his above-quoted statement was entirely accurate. The Mueller indictment only mentions the official name of Russia–the Russian Federation–on one occasion. And that mention only appears in a section detailing how the Internet Research Agency's trolling efforts were also aimed at Russian citizens and electoral systems.
There are three references to the "Russian government" in Mueller's new indictment, but none of those references explicitly allege electoral interference by the Russian government itself. One of those references–on page 24–simply rehashes U.S. media reporting about alleged Russian government interference. Another reference–on page 5–notes that the Internet Research Agency LLC was registered in Russia as a Russian corporate entity. The final reference–on page 6–notes that two other organizations, Concord Management and Consulting and Concord Catering, have received contracts for the Russian government–but does not detail any of those contracts.
In other words, the only detailed mention of the Russian nation-state in Mueller's indictment is the fact that the Russian troll farm actively worked to troll and interfere with Russian elections as well. That's kind of important.
3. One Dumb Russian Email Basically Gave Up The Whole Plot
Page 24 of the indictment offers a very brief window into the mind of defendant Irina Viktorovna Kaverzina, an employee with the indicted Internet Research Agency. In an email to a member of her family, Kaverzina is alleged to have written, "I created all these pictures and posts, and the Americans believed that it was written by their people." This particular sentence has been widely reported on as arrogant braggadocio, but that's not really the case–and the underlying context of Kaverzina's words hasn't really been explored.
As noted by Twitter-based legal commentator @nycsouthpaw, one of Kaverzina's emails offered Mueller's team a crystal-clear way of summing up the Russian trolling efforts–basically the whole shebang. The indictment reads:
Defendants and their co-conspirators thereafter destroyed evidence for the purpose of impeding the investigation. On or about September 13, 2017, KAVERZINA wrote in an email to a family member: "We had a slight crisis here at work: the FBI busted our activity (not a joke). So, I got preoccupied with covering tracks together with the colleagues." KAVERZINA further wrote, "I created all these pictures and posts, and the Americans believed that it was written by their people."
4. There's Something About Math
Mainstream media accounts have mostly sensationalized the amount of money spent by the Internet Research Agency on the group's social media trolling effort known as "Project Lakhta." Pages 6 and 7 of the indictment note:
a. CONCORD funded the ORGANIZATION as part of a larger CONCORD-funded interference operation that it referred to as "Project Lakhta." Project Lakhta had multiple components, some involving domestic audiences within the Russian Federation and others targeting foreign audiences in various countries, including the United States.

b. By in or around September 2016, the ORGANIZATION's monthly budget for Project Lakhta submitted to CONCORD exceeded 73 million Russian rubles (over 1,250,000 U.S. dollars), including approximately one million rubles in bonus payments.
Therefore, an accurate and contextualized understanding of this section would read something akin to: Project Lakhta was a worldwide trolling program–aimed at multiple countries including Russia itself and the United States–with a monthly budget in excess of $1.25 million.
But spending $1.25 million per month on a worldwide trolling program just doesn't have the same sting as spending $1.25 millon per month in the United States alone–so most media accounts simply fail to mention this.
The New York Times misleading coverage reads, "The Russian nationals were accused of working with the Internet Research Agency, which had a budget of millions of dollars and was designed to reach millions of Americans."
CNN's coverage was similar, "By around September 2016, the indictment says, the Internet Research Agency's monthly budget for the project that included the US election interference operation exceeded 73 million Russian rubles, or over $1.25 million."
The Washington Post's analysis of the Mueller indictment also fails to offer any sort of context, but provides a hefty dose of additional darkness in the way of obfuscatory musings about spending during the primaries. Aaron Blake writes, "At one point in the indictment, a price tag is put on the effort: $1.25 million in one month, as of September 2016. To put that in perspective, that's as much as some entire presidential campaigns were spending monthly during the primaries."
The Atlantic's national security and intelligence committee staff writer Natasha Bertrand breathlessly repeated the context-free assumption in a still-extant tweet with over 2,500 retweets and over 4,200 likes as of Saturday afternoon.
As journalist Aaron Maté noted, most Americans are likely to infer the $1.25 million-per-month was solely allocated for U.S.-focused trolling efforts. But the above-referenced journalists aren't stupid. That's probably by design.
5. Where in the World is Christopher David Steele?
For all the 007-cum-Spy vs. Spy theatrics as of late, it was probably refreshing for anyone eyeballing the Mueller indictment not to see anything about Christopher Steele or his urine-spattered dossier. But there is an oblique necessity to talk about Christopher Steele anytime we discuss the unfolding drama surrounding Robert Mueller, President Donald Trump and the never-ending anti-fantasy of Russiagate.
As Law&Crime's resident conservative commentator Robert Barnes (with whom this author does not share an ideological affinity) noted, it's the absence of Christopher Steele that's important here in particular. Barnes writes:
Mueller's indictment against 13 Russian trolls claimed their social media political activity was criminal because: they were foreign citizens; they tried to influence an election; and they neither registered under the Foreign Agents Registration Act nor reported their funding to the Federal Elections Commission.
Ditto Christopher Steele and his various employers, collaborators and hangers-on. Forget about the meh-shrug-inducing conservative claim–more like a caterwaul–that none of the digital ink spilled on Russia would have ever been summoned into existence but for the semi-discredited dossier. Barnes' point, which should be important to anyone actually concerned with laws and stuff like that, is that Steele and those in his orbit are likely as guilty of the same FEC violations as the 13 accused Russian trolls.
That's a valid point. And, in any event, Steele has done plenty else wrong–he lied to the FBI. Steele may–and likely should–be indicted as political tempers eventually cool. Equal application of the law pretty much demands Steele see some uninviting legal consequences. But it's anyone's guess if that will ever actually occur.
[image via Alex Wong/Getty Images]
Follow Colin Kalmbacher on Twitter: @colinkalmbacher
Have a tip we should know? [email protected]