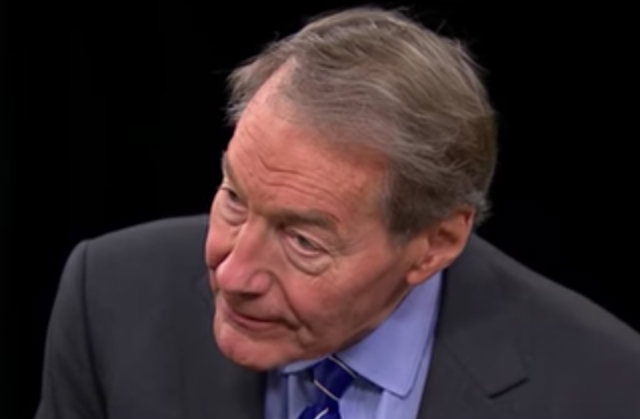 Another high-profile man is accused of sexual misconduct going back years. This time, it's TV host Charlie Rose. Eight women told The Washington Post in a Monday report about allegedly predatory behavior dating back to the late 1990s. Three spoke on the record. The rest discussed this on background, worried about Rose retaliating against them. Rose disputed some details in his statement to WaPo, saying "I do not believe that all of these allegations are accurate. I always felt that I was pursuing shared feelings, even though I now realize I was mistaken."
So what kind of allegations are we talking about here?
1. Walking Around Naked in Front of Women
Several women claimed that he walked around naked in front of them. Kyle Godfrey-Ryan, one of Rose's former assistants, said he walked around naked in front of her. This allegedly happened at least a dozen times when she was working at one of his New York City homes.
"It feels branded into me, the details of it," she said.
2. Sharing Sexual Fantasies
Godfrey-Ryan also claimed he'd repeatedly call her late night or early morning to talk about his sexual fantasy: her swimming nude in a pool as he watched.
3. Groping. A lot of groping.
Former intern Reah Bravo said Rose groped her on numerous occasions. In several instances, he'd allegedly do this: "He would grip my head tightly while talking to me. He held it so tightly that I couldn't turn my neck in any direction. I was forced to look at him or to let him talk directly into my ear."
Megan Creydt, a former show coordinator, said Rose groped her thigh when she was riding in the passenger seat of his car.
"I don't think I said anything," she said. "I tensed up. I didn't move his hand off, but I pulled my legs to the other side of the car. I tried not to get in a car with him ever again. I think he was testing me out."
4. Pressing His Body onto Alleged Victim
Brave said Rose pressed his body into hers during a private plane ride.
"I felt at a loss," she said. "I mean, what am I going to do? We were how many feet up in the air? I remember him being on top of me."
In her story, they remained clothed, and he came back to his seat. But she described his behavior as "animalistic."
5. It Was an Open Secret
The allegations may have been unknown to viewers, but Rose's allegedly predatory behavior was known to staffers. WaPo interviewed six former employees who claimed to witness harassment, and eight who had concerns about how Rose treated women who worked for him. (10 staffers said they saw and heard nothing problematic.)
Bravo said that while she was a on a work trip with the host, a male producer sent her a message. He told her not to hesitate in getting the show's car service to return her home if Rose acted "sketchy."
Godfrey-Ryan said she reported Rose's inappropriate phone calls to the show's executive producer Yvette Vega, who allegedly dismissed the allegation.
"I should have stood up for them," Vega told WaPo. "I failed. It is crushing. I deeply regret not helping them."
One of the anonymous sources said she worked for Rose in the 1990s. She said women were routinely brought to work at a desk in Rose's Manhattan apartment. In one instance, the host entered his bathroom, and the turned the shower on, the woman said. The door allegedly remained open as Rose called out her name. Finally, he approached her while only wearing a towel, the woman said. A male coworker later said to her, "Oh, you got the shower trick."
[Screengrab via PBS]
Have a tip we should know? [email protected]