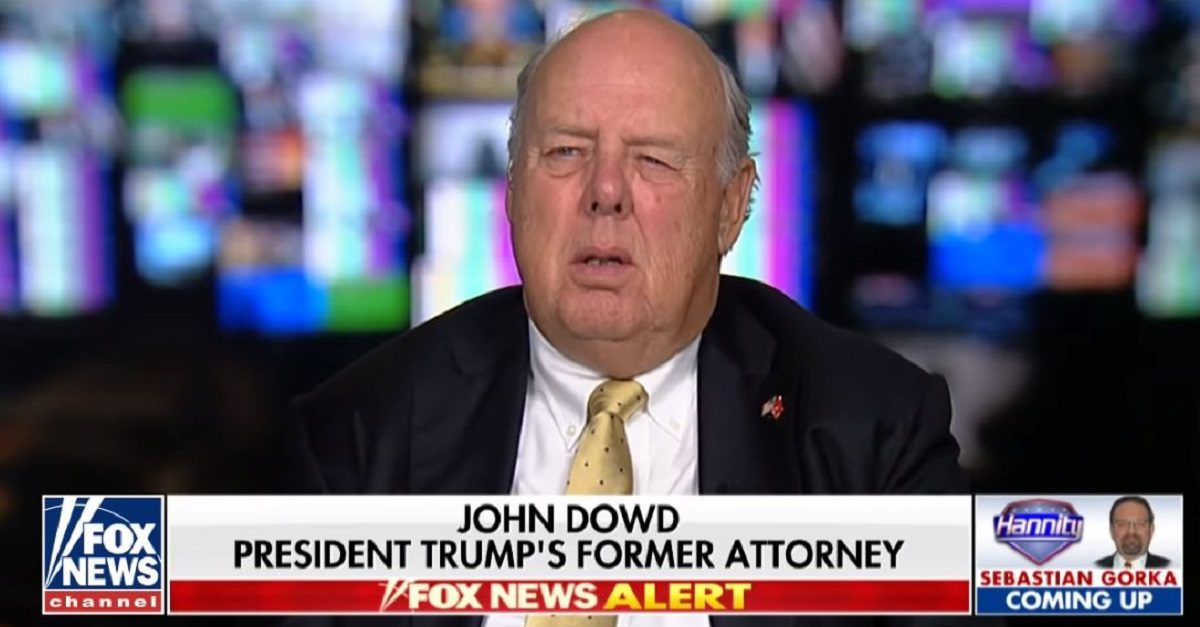 Now that Special Counsel Robert Mueller's investigation is over, we're beginning to learn a bit of what went on behind the scenes. Wednesday brought a report in the New York Times with quotes from some of Mueller's investigators, and a new podcast featured a revealing interview with one of the attorneys who represented President Donald Trump during the probe. That lawyer, John Dowd, was on Trump's team until March 2018, and he had plenty to say in an appearance on The Byron York Show. Here are the highlights.
1. Mueller 'understood' that Trump had to act tough publicly
Dowd confirmed that the Donald Trump the public saw was not the same as the Trump who dealt with Mueller's investigation. Despite going on Twitter and blasting the probe as a "witch hunt" over and over, he continued to cooperate with investigators as much as possible. Dowd said he discussed Trump's behavior with Mueller himself, and that Mueller understood that Trump felt the need to appear a certain way for political reasons, while the media was constantly attacking him.
"Bob was a big boy about the political side," Dowd said. "He understood the president had to address the politics of it. He couldn't just say nothing. People were pounding him about this thing every day, both privately and publicly."
The one issue Mueller had, Dowd said, was that he was worried about how Trump's grandstanding would look to other people who were being investigated. Dowd said he understood and addressed it.
"Early on, when the president started teeing off on Mueller, Mueller indicated to me that he was worried that some people might not cooperate, and I said, 'well we've encouraged everyone to cooperate, and if you want me to say something publicly about that, and the president, we're happy to do it.' And we did. We encouraged everyone who was asked to cooperate."
So when media reports focused on an apparent animosity towards Mueller, or that the president was going to fire him, Dowd thought it was overblown, to say the least.
"All this, what I call mainstream knee jerk theories, these wild theories that he was really trying to get rid of Bob, that was nonsense."
2. Mueller acknowledged how cooperative Trump was
Dowd said that the White House's relationship with Mueller's office was not adversarial, and that Trump respected the process, "even though he probably had the constitutional power to just shut it down. So he did respect it." Mueller knew this too, Dowd claimed.
"In fact, in the March 5 meeting of 2018, [Mueller] acknowledged that all the witnesses told the truth, all the documents were there, there was nothing was missing, no documents destroyed, and it was truly remarkable, yet the mainstream media and other people don't want to give him credit for it."
3. Mueller's team would use "code" to let him know when the media got things wrong
The Special Counsel's Office was notorious for not making public statements about the investigation. This made things a little bit difficult, because even when media reports were wrong, they often didn't say anything. When Dowd had a question about a report that didn't seem right to him—like a Bloomberg report about Mueller looking into Trump's business dealings—he had to go to Mueller's deputy James Quarles. Quarles would then use "code" to let him know the story wasn't accurate. As Dowd said:
The hard part about it is they don't like to be in a position to make a public statement. So I had to go by his office to drop something off, and we met outside. And he said, in code, don't believe everything you read in the papers. I said, I got it, OK, and I could then say [to the president] I talked to the special counsel and there was no basis for it.
4. Rod Rosenstein asked if he was going to be fired after appointing Mueller, and Sessions tried to resign
"How the hell did that happen?"
That was Dowd's reaction to Mueller's appointment, and he explained why. He described how Trump and his team were supposedly blindsided by Rod Rosenstein's decision to name Mueller as special counsel, when Trump had just passed him over for the newly-vacant FBI Director position the day before. It turns out that Attorney General Jeff Sessions was also taken by surprise, as he had recused himself from the Russia probe. Sessions was apparently "embarrassed" by having this done without his knowledge, and offered to resign right then and there.
Rosenstein, meanwhile, was afraid he'd be terminated. Dowd recalled what supposedly happened after Mueller's appointment, when Sessions' chief of staff Jody Hunt went to Rosenstein's office.
"He walked in Rosenstein's office and said [Rosenstein] was hunkered down behind his desk and asked Hunt, 'Are they going to fire me?' Think about that for a minute. I mean, no one knows how Rosenstein and Mueller ever got together, why Mueller was picked. No one has ever answered any questions about that."
Rosenstein kept his job, and oversaw Mueller's investigation as acting Attorney General until the recused Sessions resigned.
These revelations about the Mueller probe come as Congress and the public await the release of Mueller's full report on the Russia investigation, which Attorney General William Barr said he would have produced with redactions. House Democrats, however, are seeking an unredacted version. How that plays out remains to be seen, but it could very well end up before the courts.
[Image via Fox News screengrab]
Have a tip we should know? [email protected]