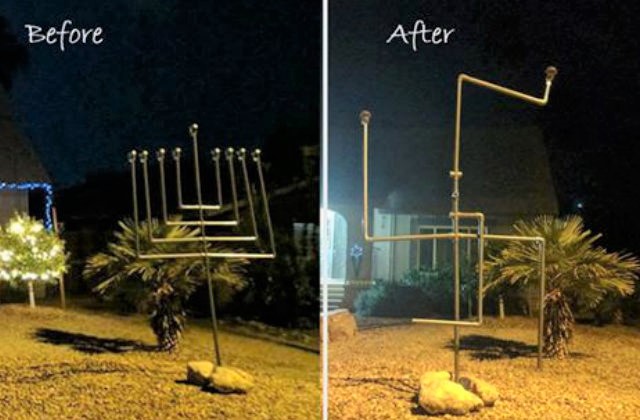 For months, an Arizona family wondered who took apart the 8-foot-tall menorah in their front yard and turned it into a swastika. The Chandler Police Department have now provided a possible answer. On Friday, cops announced the arrests of 19-year-old Clive Jamar Wilson and three male juveniles in connection to the incident. All four are charged with one count of felony first-degree criminal trespass, and one count of felony aggravated criminal damage. This investigation is ongoing. None of the suspects could be reached for comment.
Mother Naomi A. Ellis announced the crime in late December. She and her family are Jewish, and were celebrating the Hanukkah holiday.
"My husband built the menorah to celebrate the Hanukkah holiday after our kids (3 boys 9, 7,5) asked for their own holiday lights for the season," she wrote in a Facebook post. But they woke one morning to find that someone altered it into the shape of a swastika. She said police helped her take it down before her kids could wake up and see it.
"I'm still not sure how I will explain this to them," she wrote. "I'm not sure I quite understand it myself, nor have I ever understood racism or prejudice in any form. How can people can be filled with so much hate and violence? To think that someone would make such an effort to hurt and vandalize a family, is downright sickening."
Ellis called it a hate crime, though the police statement never used that term. In any case, Arizona does have relevant statutes. Arizona law states that religious bigotry is an aggravating factor to determine sentencing. Also, the law on aggravated criminal damage covers personal property used for religious purposes.
[Image via Naomi A. Ellis]
Have a tip we should know? [email protected]