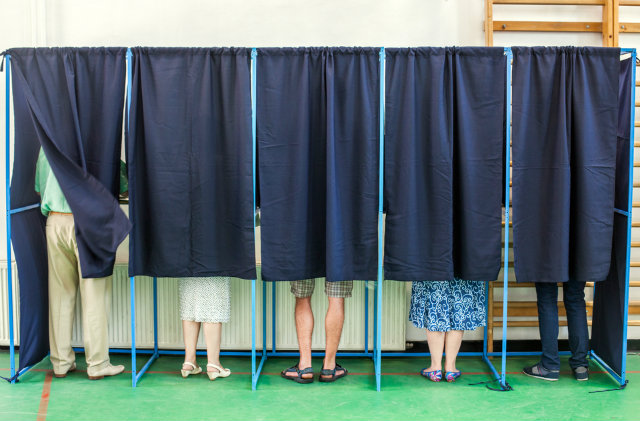 Almost 150,000 people shouldn't be on the Rhode Island voter roll, but a top official says it's not a crime.
"It's not really fraud," Secretary of State Nellie M. Gorbea told The Providence Journal on Tuesday. "It's really just inaccuracies."
She identified those 150,000, and largely attributed them to registered voters who move, but decline to tell officials, she said. Gorbea explained that the law on removing their names involved "strict protections."
First, official elections mailing has to be returned as undeliverable, after which voters are considered inactive. But even then, Rhode Island voters can only be taken off from the rolls if they don't vote in the following two federal election. Gorbea said she marked about 30,000 people are "inactive," and removed almost 65,000 people from the rolls since taking office in 2015. In doing so, she has spent about $119,000 in the removal process. This involves membership due in a multistate partnership called the Electronic Registration Information Center, which is dedicated toward identifying voters who might have moved.
It's not a perfect process, but Gorbea claimed it was a way to maintain fair elections.
There isn't a silver bullet against bloat on the voter rolls," she said.
The interview came as President Donald Trump's voter fraud commission asked all 50 states for a whole slew of information: registered voter's names, addresses, dates of birth, political affiliation, election history, the last four digits of social security numbers, etc.
Officials snubbed this request altogether in states like New York and Kentucky. Still more could only give data piecemeal because state law tied their hands, or the information wasn't available. For example, Oklahoma won't give social security numbers. Even Kansas Secretary of State Kris Kobach, who is part of the commission and wrote the request, couldn't provide all the information.
Gorbea said Friday she will only release publicly available information.
"I will not release social security information or any information that was requested by Secretary Kobach regarding felony status, military status, or overseas citizen information," she said.
Voter fraud exists. It really does. The debate is over how common it is. Does it happen enough to change an election? This has largely become a party-line issue, with Republicans like Kobach pushing for voter ID laws. Democrats, such as Gorbea, deny that it's widespread.
Indeed, voter ID laws have been shot down in court. Judges have ruled that some statutes have been used to disenfranchise black people.
The president started his voter fraud commission in May after months of claiming, but never showing, that millions illegally cast ballots in the 2016 election.
[Image via Alexandru Nika and Shutterstock]
Have a tip we should know? [email protected]